Our Collaborations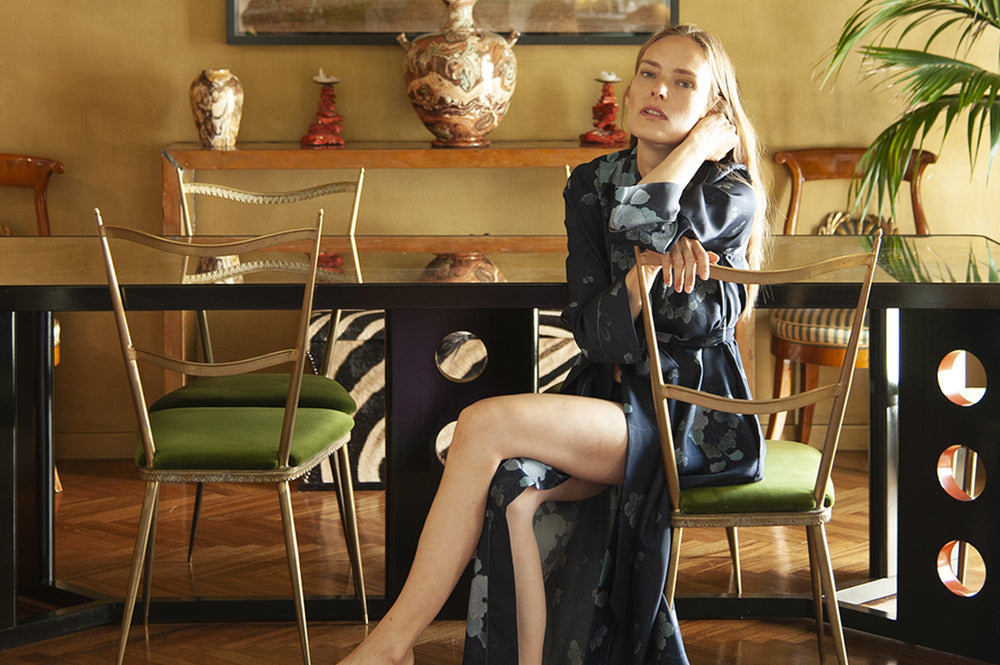 Collaborations:
Collaborations are a key part of our creative journey and play an ongoing role in the Morpho + Luna story. As we continue to evolve, we have been fortunate to work with a number of talented and like-minded, artists, designers and brands who share our aesthetic.
We are therefore constantly on the lookout for new collaborative partners, whether that involve beautiful archival prints, advanced techniques or creative research projects, in order to produce new and limited-edition pieces.
Mantero for Morpho + Luna – 'Dancing Butterflies'
In a colour palette that mixes rich earth tones with soft pastels and indigo blue, the Dancing Butterfly collection by Morpho + Luna is the result of an exclusive collaboration between the brand and the Como-based textile company Mantero.
Morpho + Luna and Mantero have collaborated on a series of bespoke floral and butterfly prints inspired by the Japanese Art Deco era, which flourished in Japan between the 1920-40s and were discovered in Mantero's extraordinary archives. The resulting prints are stunning and explore the eclecticism of the natural world with reference to ancient and contemporary Japanese cultures.
The collection is made in Como, Italy, and includes silk twill pyjamas and nightdresses, robes, and eye masks. For the home: printed placemats, aprons, bread baskets, and bed pillows. The collection also includes kimonos made from an innovative new regenerated fabric called Resilk®, developed by Mantero to give a second life to silk waste.
Shop the collection here.
Stéphanie Chauvel for Morpho + Luna – 'Jardin de nuit'
In a palette that mixes deep teals with forest-floor, coppery tones we collaborated with the Milan-based print designer, Stéphanie Chauvel to produce our new, limited-edition 'Jardin de Nuit' 2020/21 collection of sleepwear. The collection features a striking floral print inspired by botanical drawings found in 17th and 18th-century pattern books and it took several months to tweak the motifs and colourways into a design that's contemporary with a gentle nod to the past. Nature has always been a source of inspiration for our collections and this season is no exception. The flowers featured in the print have been chosen for their uplifting symbolism; in Austria, the Edelweiss, for instance, signifies love and devotion, the peony is said to symbolise prosperity while roses romance, but also confidentiality.

Shop the collection here or click here to read more from behind the scenes.
Kinloch Milano for Morpho + Luna – SS20
For Spring/Summer 2020 we have teamed up with the Como based silk accessories brand Kinloch Milano, to produce a collection inspired by the romance of summer in northern Italy. Every year throughout July and August when Milan turns hot and humid, and once the wisteria begins to bloom, the mosquitoes invade the city and the Milanese leave for the countryside, heading north on Friday afternoons and returning late on Sunday evenings. These weekends, where the preoccupations of life are momentarily eclipsed by time spent in a world of buzzing crickets, long grass, deep blue water and mountain haze, are heavily reflected in our SS20 exquisite oriental floral print. Created in three unique colour ways, it perfectly captures the pure waters of the lake and the bright flowers, tangled vines and warm sunlight of the Italian countryside.

Shop the collection here or click here to view some of the beautiful images from our shoot and read more from behind the scenes.
Koibird for Morpho + Luna
For 2019 we are delighted to work with Koibird, a luxe concept boutique based in London, to design an exclusive 100% cashmere capsule collection for their limited-edition winter travel edit. The loose-cut Polly hoodie features a drawstring hood, whilst the matching Rose trackpant comes with cuffed hems and a drawstring waist for supreme comfort and style. Available for a limited time only, we have worked hard to create beautiful loungewear pieces in bright hues and contrasting trims, that are perfect for elegant winter lounging, sophisticated après ski moments, and staying cool and comfortable on long-haul flights.
The two pieces are available in blue, lilac and camel, in keeping with Koibird's bright and eclectic aesthetic and made out of pure and luxurious cashmere by one of our most trusted suppliers in Italy. Renowned for working with some of the world's most distinguished fashion houses, their 100% traceable production methods perfectly align with our commitment to slow fashion.


Tom Gallant for Morpho + Luna
For four seasons we have worked closely with Tom Gallant, an artist known for his beguiling prints incorporating flora and fauna, intricately handmade and prepared using digital techniques. Tom's work is internationally renowned and has featured in many international collections and exhibitions, including Audacious at Denver Art Museum, Manus x Machine at The Met New York, and Turkish Tulips at The Bowes Museum. His prints perfectly align with our continuous exploration of Greek mythology and our fascination with the night sky. Morpheus was the God of dreams in Greek mythology and Luna the Italian for moon and each collaboration features motifs from across these themes, effortlessly capturing the essence of Morpho + Luna.
SS19
For our final limited-edition collaboration with Tom Gallant we have created a bespoke print which combines our love of the natural world with our love of mythology. Celebratory of Morpho + Luna's signature themes we sought to commemorate some of nature's most beautiful creatures, particularly hummingbirds, frequently found in Greek myths and legends. Symbolic of resurrection and regeneration, dreaming about these tiny, delicate creatures is said bring joy and good fortune and Tom's enchanting print pays homage to this, in addition to butterflies and rare and fragile orchids. The subsequent print has been used across several silk garments in a beautiful new aqua hue and has since become a recognisable symbol of our brand.

Shop the collection here or click here to view some of the beautiful images from our shoot and read more from behind the scenes.
AW18
Our autumn/winter 2018 collection features another limited-edition print by artist Tom Gallant. Entitled 'Sirene' it was inspired by the beautiful sea forest underworld and depicts Sirens, the dangerous creatures of Greek mythology who used the power of their captivating music and song to lure sailors to shipwreck on the rocky coast of their island. The resulting collection has been created from a mix of ceramic and silk threads to communicate the lightness and floaty nature of the underworld forest and features a rich ocean-like colour palette. Petrol blues match with emerald greens and have been enhanced with flashes of silver, and delicate siphonophores detailing to bring the collection to life.

Shop the collection here or click here to view some of the beautiful images from our shoot and read more from behind the scenes.
SS18
For spring/summer 2018 our limited-edition print forms part of our ongoing collaboration with the artist Tom Gallant and took inspiration from the tropical island of Réunion. To bring the island's stunning scenery to life, Gallant has drawn on the surreal, vibrant works of post-Impressionist artist Henri Rousseau and the print features bold foliage, brightly coloured birds-of-paradise and Morpho + Luna's signature butterfly motif. With a rich colour palette, incorporating deep blues and golds, the final artwork appears as a print on a number of our new and signature silk pieces and features intricate embroidery detailing.

Shop the collection here.
AW17
For autumn/winter 17 Tom has turned to mythology to inform his exquisite artwork. Taking inspiration from Persephone Queen of the Underworld and the cult surrounding her mother Demeter, goddess of the harvest, as well as still life, particularly the famous painting 'Flower Piece' by Dutch artist Hans Gillisz Bollongier in 1639.
The resulting collaboration features an alluring print to celebrate the juxtaposition of light and dark, and the changing of the seasons, and is symbolic of the prominent role of sleepwear in bridging the gap between day and night. The final artwork has been expertly printed onto Italian silk and also turned into intricate silk embroidery following Tom's collaboration with the London Embroidery School, in order to create an impressive chiaroscuro effect using ceramic and silk threads that features across many of our wool pieces.

Shop the collection here or click here to view some of the beautiful images from our shoot and read more from behind the scenes.
Sign up to our newsletter to find out about more our upcoming collaborations.