INTRODUCING A NEW BESPOKE PRINT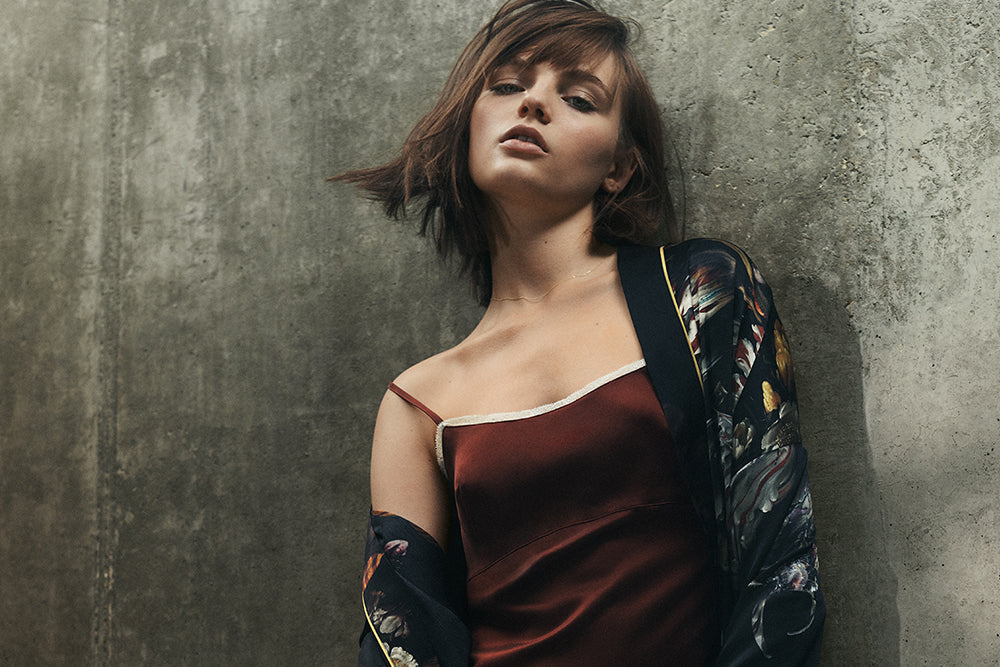 As part of our autumn/winter 17 collection, Morpho + Luna has worked with talented artist Tom Gallant on a limited-edition print that has been used across some of our new and signature pieces.
Tom appropriates images and motifs for his intricately handmade artworks, prepared using digital techniques, and his work has featured in many international collections and exhibitions, including Audacious at Denver Art Museum, Manus x Machine at The Met New York, and Turkish Tulips at The Bowes Museum.
In his exquisite artwork for Morpho + Luna, Tom has explored our underlying themes of mythology and morphology, taking inspiration from Persephone, the queen of the underworld, as well as the cult of Demeter, the goddess of the harvest. Seen on a range of robes and separates, the alluring artwork tells the story of light emerging from dark, resulting in a dreamlike quality. Tom was also inspired by Flower Piece (1639), a famous still-life painting of flowers in bloom by the Dutch artist Hans Gillisz Bollongier.
Mythology is a key inspiration for Morpho + Luna; the first part of our name is also derived from Morpheus, the Greek god of dreams, who appears in Ovid's Metamorphoses. Sleepwear is the bridge between the two realities of night and day, and this print celebrates the juxtaposition of light and darkness, as well as the changing of the seasons.
As well as being expertly printed onto Italian silk, the artwork has also been turned into intricate silk embroidery on some of our wool pieces. For this, Tom collaborated with The London Embroidery Studio, achieving an impressive chiaroscuro effect through the use of ceramic and silk threads.
View the collection here.