MADE IN ITALY, SUSTAINABILITY AND SLOW LIVING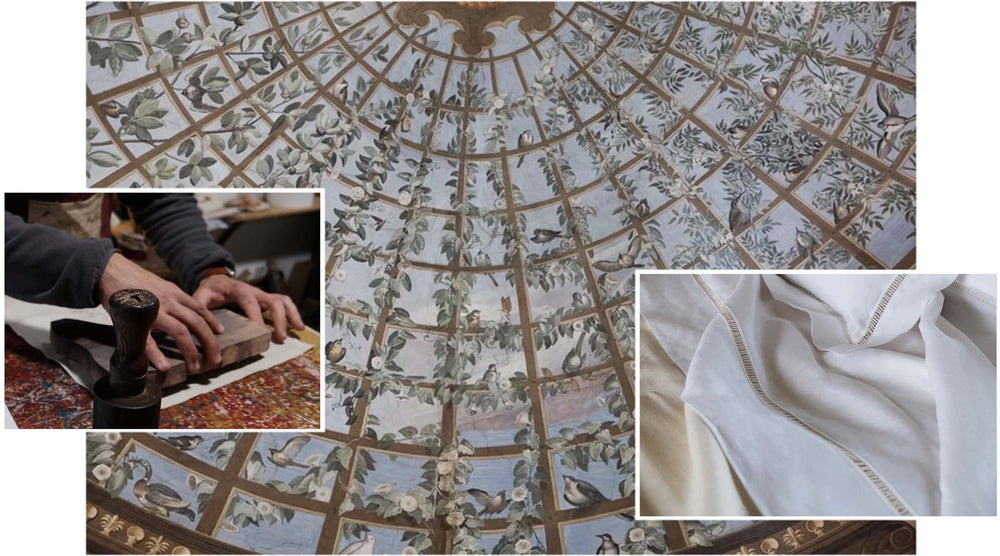 WHAT DOES MADE IN ITALY, SUSTAINABILITY AND SLOW LIVING MEAN TO US?



Made in Italy
Italian excellence and artisanal skills are renowned across the world and
'Made in Italy' has become a symbol of craftsmanship, creativity and
quality
.


It represents the evolutionary pathway of Italian civilisation and is deeply rooted in history, tradition and expertise. Modern-day artisans continue to follow in the footsteps of previous generations and those who first invented the craft and the skills and knowledge that they have acquired continue to be passed down from one generation to the next.


We are extremely proud that all of our pieces are produced at family-run factories near Como in Italy
with the exception of our pashmina gowns which are hand embroidered and hand woven in Kashmir.


Producing in this manner helps us to play a small but determined role in helping to ensure longevity in Italy's textiles and manufacturing industries, particularly as they begin to rebuild after the Coronavirus pandemic and retain their pre-eminence in the world of artisanal, luxury fashion manufacturing.



Small but powerful
Your business can only be as strong as your team and we are fortunate to be a team of five committed, hard-working and motivated women. We're natural problem solvers and flexible in our approach and this has allowed us to grow the brand from initial inception at our founder's kitchen table to where we are today.



Transparency and traceability
At Morpho + Luna we believe that traceability – knowing exactly where every fibre, thread and fabric originated – should be standard for all retailers and manufacturers, luxury or otherwise. We are
thus fully
committed to the transparency and traceability of all our fabrics - and to the disclosure of all information relating to the materials we use – to ensure that our production methods and materials are guaranteed to be fair and responsible at every stage of the process.


Our suppliers are carefully chosen to ensure that the entire production process, from the careful selection of raw materials to the finished fabric is transparent and adhere to strict quality controls to ensure that the resulting textiles are of exceptional quality. 


The majority of our suppliers are Italian but we also source from the UK, Ireland, Kashmir, China and Switzerland depending on the fabric and collection.
Together our suppliers
hold an extensive list of certificates
covering quality management to the environment and the traceability of yarns, weaves and dyes used. For the full list of these please click here.



We deal directly with our suppliers
We source everything from fabrics to trimmings, buttons, labels and packaging directly from our suppliers with no third-party involvement.
Building and developing direct supplier relationships takes time and commitment but is imperative to create a true slow fashion brand and
remove any ambiguity and uncertainty.
It is a very human way of approaching business and is based on mutual trust and collaboration.

Natural fibres
Beautiful, high-quality fabric has always been at the heart of Morpho + Luna and we work with expert suppliers and craftsmen to achieve the simple, timeless and classic pieces we are renowned for.


As a brand we strive to use only
the finest natural fibres found in nature which are 100% non-toxic and chrome free. Wherever possible we refrain from using synthetic materials. However, on occasion we have used viscose and where products require stretch we have had to use elastane, for example our pyjama waist bands and some of our lace.



Research & development
Quality is particularly important to us and we spend a lot of time researching and sourcing the highest quality fabrics available on the
textile
market. As part of this we attend Première Vision Paris (the largest textile trade show in the world) and Milano Unica twice a year. These trade shows are a hub of innovation and research and attending them enables us to ensure we continue to use the best fabrics and suppliers across all of our collections. It also enables us to stay up to date with developments in eco-
friendly productions of renewable and recycled fibres, natural, animal and plant fibres and man-made artificial fibres for example, those derived from unused natural fabrics such as silk or cotton which often require less water to produce than natural alternatives.

Less is more
We believe in simplicity – a simpler, slower and more thoughtful way of living and we purposely work hard to ensure that everything we create is timeless, well-designed and high-quality. Our products are versatile and
designed with fabrics that last so you can be confident that all our pieces can be worn in all seasons and for years to come.


As a result, we no longer operate according to the traditional fashion calendar and instead create seasonal 'drops' of new styles which we
purposely keep small so as to help ensure we don't overproduce or accumulate stock unnecessarily. Wherever possible we also reuse, rework and revive left over fabric so as not to waste it. 



Sustainable and certified organic fabrics
We are constantly striving to do better and
 find new, more ethical ways to operate and 
we will continue to be open about our journey. We are currently looking for ways to improve and create more eco-responsible and innovative products from sustainable and organic fabrics which adhere to the Global Organic Textile Standard ("GOTS").

Plastic free
We believe that it should be standard for all companies to be plastic free or working toward being plastic free in the near future. Our swing tags and packaging is completely plastic free and all items are wrapped in tissue paper and/or an elegant, 100% recycleable paper box. Orders are then shipped in an eco-friendly, compostable mailer bag or recycleable cardboard box which are then sealed with bio-degradable paper tapes. All our collections are packaged in compostable transparent bags.



Giving back
We are a small Italian brand based in Milan and are all too aware that what we do would not be possible without our business community who are largely based in northern Italy. We aim to give back as much as possible and have recently donated 30% of all sales in March 2020 to three hospitals in Milan and donated our sleepwear to 100 female doctors and nurses working in the Intensive Care Unit at Ospedale Sacco who have worked tirelessly to save lives throughout the Covid-19 pandemic. To read more about this particular donation please click here.