THE ART OF SERENITY AT PRINCIPE DI SAVOIA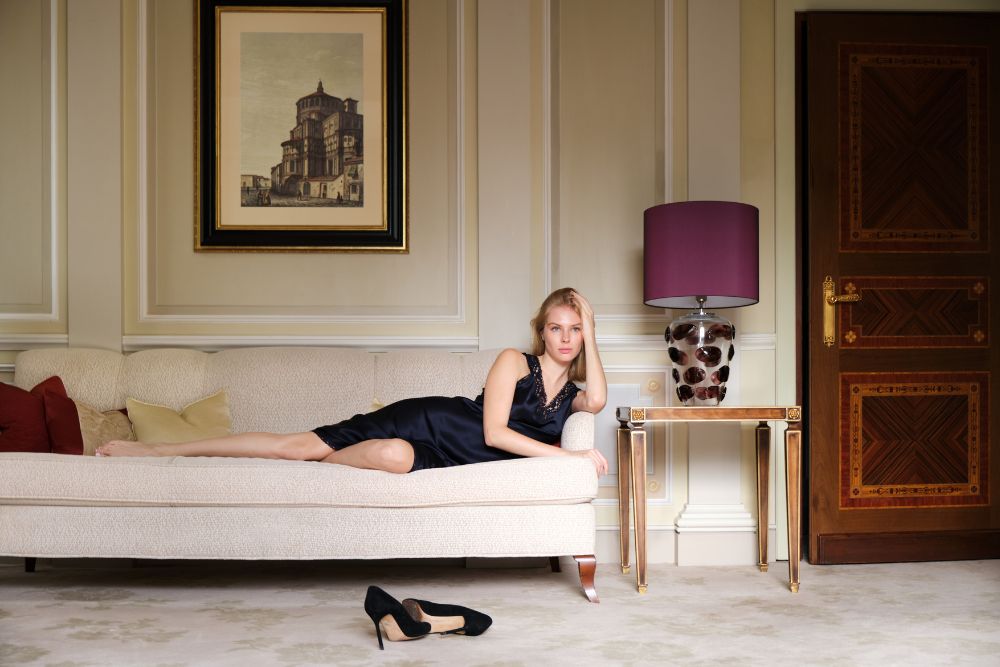 Nestled in the bustling heart of Milan, a city synonymous with fashion and design, stands the Principe di Savoia Hotel—a beacon of elegance within the esteemed Dorchester Collection. It's here, amidst this splendid setting, that Morpho + Luna has found a kindred spirit. Our latest photoshoot found its home within the hotel's opulent walls, proving that in the quest for refined luxury, ambiance is everything.
Principe di Savoia embodies a 'quiet luxury' that speaks volumes, aligning seamlessly with Morpho + Luna's philosophy. The hotel, a historical gem, has been the epitome of Milanese spirit and hospitality since the 1920s. Its remarkable façade and interiors, steeped in traditional Italian design, provide an ideal setting for a luxury sleepwear brand like ours.

As a brand that prides itself on crafting pieces that whisper elegance rather than shout extravagance, Morpho + Luna found the hotel's ambiance to be a resonant backdrop. Our designs, known for their silent language of elegance, were able to converse with the surrounding luxury, making the Principe di Savoia's rich textures and warm palette an integral part of our visual storytelling.
We also had the pleasure of enhancing the already impeccable experience for the hotel's top guests by introducing our therapeutic lavender eye pillows. Designed to encourage relaxation and a sense of tranquility, these eye pillows are an extension of our dedication to creating a cocoon of comfort, offering a moment of reprieve from the vibrant energy of Milan.
The partnership with Principe di Savoia Hotel is more than just a collaboration; it's a symphony of shared values and visions. We celebrate the art of living well, of finding peace in the plush embrace of a hotel suite, of slipping into the soft embrace of luxury sleepwear after a day exploring the Milanese milieu.
We invite you to imagine a world where every detail is curated for your well-being, where every stitch speaks of care, and every room whispers a welcome. 
With love,
- Cécile and the Morpho + Luna team