CALL OF THE SIRENS : OUR AW18 COLLECTION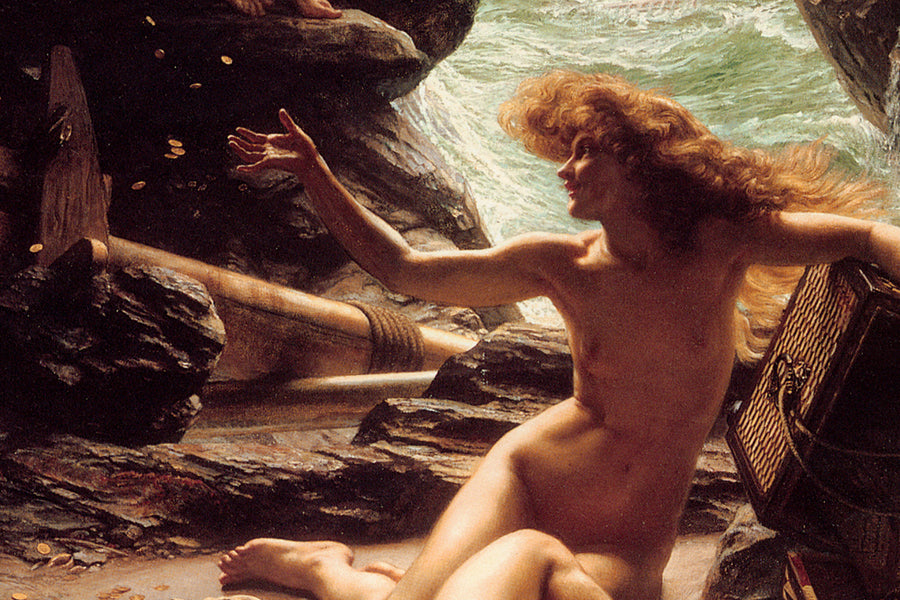 For autumn/winter 2018, Morpho + Luna has unveiled a new range of luxury sleepwear and loungewear, as well as a beautiful new limited-edition print by artist Tom Gallant, who has created an intricate visual language for the brand over the past few seasons. We asked our founder Cécile Gavazzi Daccò to tell us more about the new collection, and how it evolved over time…
'All of our collections begin with a print,' explains Cécile. 'The creative process is long, and we go on a real journey. We begin by brainstorming ideas and from this we end up with an overall 'feeling' and a colour for the season. For this collection we wanted to use a green colour palette to depict a 'dreamy' theme, as well as maintaining our links to butterflies.'
'We worked again with Tom Gallant, and he came up with the idea of an underwater forest. 'We liked the idea of depicting the sea in winter, as sea themes are more commonly associated with summer. For this print Tom came back to us with a draft idea of "Sirene", a beautiful sea forest underworld.'
The 'Sirene' theme is inspired by the Sirens who, in Greek mythology, were dangerous creatures that lured nearby sailors to the rocky coast with their enchanting music and voices. 
'Tom's attention to detail is incredible,' continues Cécile. 'We immediately loved his idea and gave him the go-ahead to further explore the theme and to work on his beautiful digital composition.' 
The resultant sea forest print has a rich, ocean-like colour palette; a petrol blue is matched with emerald greens, and enhanced with flashes of silver. The imagery also features siphonophores – transparent, bioluminescent sea creatures that can emit a green or blue light. 
'For us, it was absolutely perfect. The print is so detailed that you can get lost in it. And I think it's rather magical to wear a garment that carries such a creative journey with it.'
'That's why our printed pieces are so collectible. They are produced in limited quantities each season.' 
The limited-edition sea forest print can be seen throughout this season's collection, such as the Ines pyjama set, Bianca robe or Chloe nightdress in printed Italian silk, finished with burgundy silk trims. 
Once the print is confirmed the duo work on building a story around it, introducing colourways that complement the print – in this case emerald green and silver. 
'We also extrapolate an element from the print and work on an embroidery for our limited-edition kimonos,' says Cécile. 'Here, too, a lot of work and research goes into exploring possible designs and how we can portray the overall theme of the print using embroidery.' 
'On this occasion we have used a mix of ceramic and silk threads to communicate the lightness and floaty nature of the underworld forest. The embroidery is very light and delicate, as if made by a fine paintbrush.'
The design also appears as embroidery, on the wool flannel Bella robe, for example.  
'We complemented the Sirene print further with two new prints – stripes and uneven polka-dots – in rust and sea forest, to add a touch of playfulness to the collection,' explains Cécile. The bold prints can be seen across silk robes, pyjama sets and nightdresses.
The collection also introduces a number of new fabrics that are both luxurious and technically advanced. Signature pieces such as the Cara short pyjama set and Tess sleep shirt come in a striped Merino wool, finished with snow lace trims and mother-of-pearl buttons. The highly breathable wool, which is also machine-washable, is made by renowned Italian textile company Reda, using 100% Merino wool from its farms in New Zealand.
A new check flannel is another key part of the new collection, used for the Bianca and Amelie robes, as well as the Zac trousers. This innovative material, also made by Reda, resembles a woven ripstop fabric and offers superior insulation and comfort, as well as being machine washable.
All of Morpho + Luna's sophisticated pieces are cut for an elegant, flattering fit and, with a wide range of fabrics and colours, are versatile enough to be worn night and day, dressed up or dressed down to suit the occasion.
You can see more of Morpho + Luna's new collection and browse our full range of luxury loungewear and nightwear here.