'JARDIN DE NUIT' COLLECTION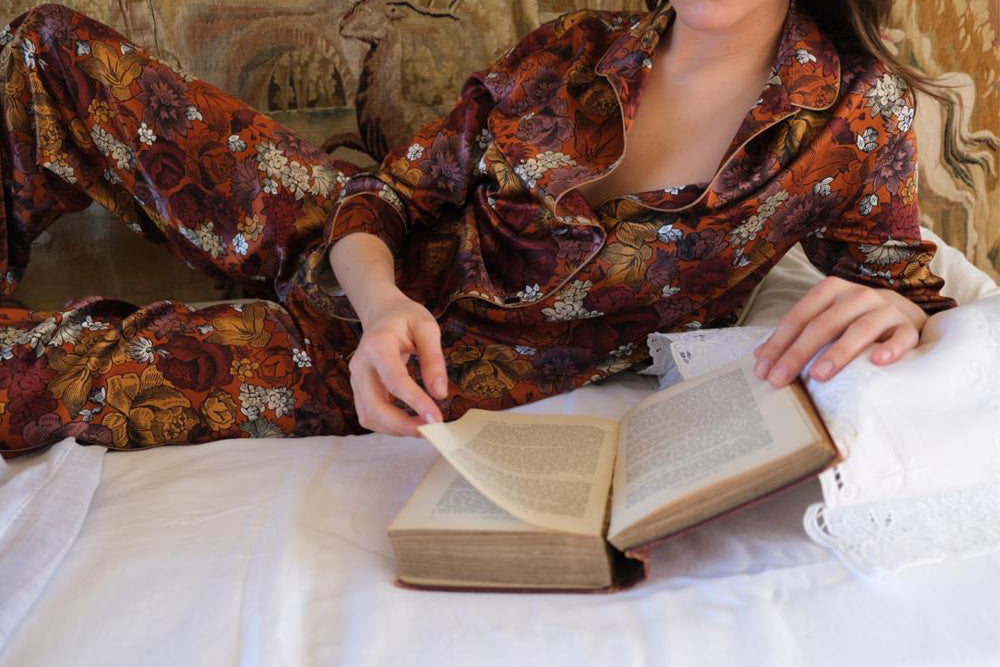 In a palette that mixes deep teals with forest-floor, coppery tones our new Jardin de Nuit collection of sleepwear is the result of a collaboration between Morpho + Luna and the Milan-based print designer, Stéphanie Chauvel. The striking floral print was inspired by botanical drawings found in 17th and 18th century pattern books and it took several months to tweak the motifs and colourways in to a design that's contemporary with a gentle nod to the past.
Nature has always been a source of inspiration for our collections and this season is no exception. The flowers featured in the print have been chosen for their uplifting symbolism; in Austria the Edelweiss, for instance, signifies love and devotion, the peony is said to symbolise prosperity while roses romance, but also confidentiality.
The collection is made from our signature, heavy, 22 momme mulberry silk in Como, in northern Italy and all the designs combine immaculate tailoring with flowing, uncomplicated silhouettes. Details are important and contrast piping and branded, mother of pearl buttons details are designed to give each piece its timeless appeal.
Morpho + Luna has always been a brand which celebrates the nurturing aesthetic of home; it's about the everyday delight of spending time at home with friends and family, or just being alone with a good book or calming, reflective thoughts. This year's events have heightened everyone's appreciation of home and its role in our well-being. The current collection, with its bright but serene palette and cossetting, luxurious fabrics, sets out to capture that mood.
As our founder Cécile puts it: 'I hope we'll all emerge from this difficult year like a kaleidoscope of butterflies leaving their chrysalises, with an improved sense of purpose and of the things that really matter in our lives.'
To shop the "Jardin de Nuit" collection please click here.