LAUNCHING SPRING / SUMMER 20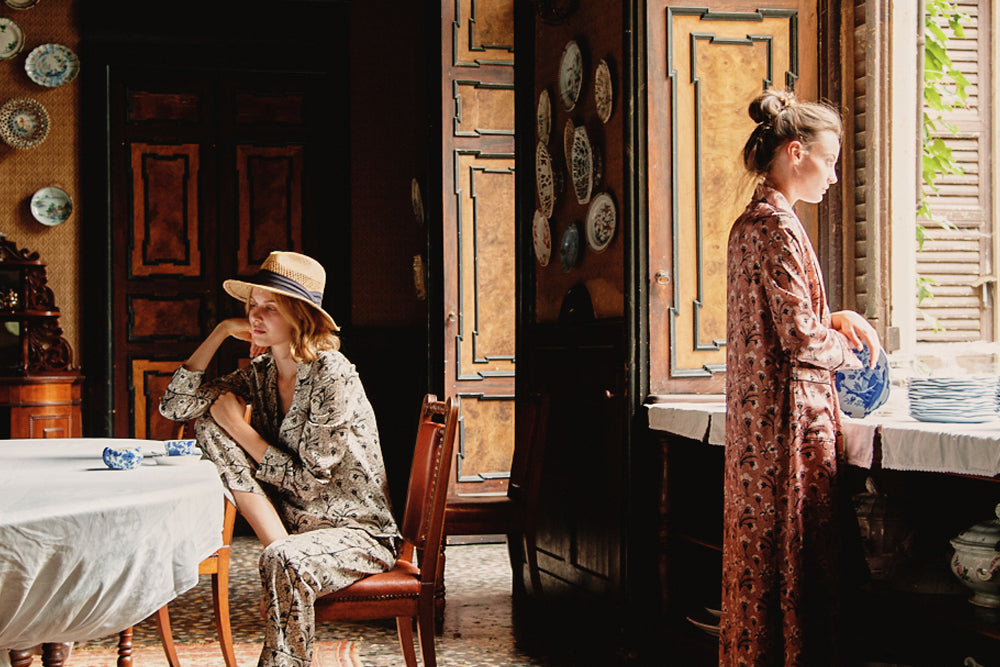 "During the summer months, Milan turns hot and humid. No sooner do the wisteria bloom than mosquitos invade the city, and the Milanese desert town for the country every weekend. Heading north on Friday afternoon, leaving early to try to beat the traffic (yet never quite succeeding), it is such a joy to see the mountains through the haze, and then finally emerge into a world of buzzing crickets, long grass and deep blue water.
My sister Caroline Gavazzi, an accomplished photographer, recently visited 'Villa Cramer Tassera' with me. It is one of the grand houses of the Como lake region, and it reminded us of the weekends of our youth; of houses filled with friends and family, of distant relations and of objects collected over hundreds of years, and given to the home. We thought it just made the perfect location for our Spring Summer 2020 shoot. 
What is common among so many of these properties is the Italian flair for romance. Small pathways cascade down the landscape, wrapping the undulating terrain. Large cypress point skyward, and purple azalea flourish in the temperate air.
When designing Morpho + Luna's Spring/Summer 2020 Collection, I thought of the romance of Northern Italy. These weekends away, so common to Milanese life, are filled with mosaic floors and bright flowers, tangled vines and warm sunlight. The villas were built like theatre sets with southern palms and eastern suzani, Greek statues and Roman columns, local stone and a sense of drama. 
The collection features a collaboration between Morpho + Luna and the Como based silk accessories brand Kinloch Milano. This season we are very excited to showcase one of their exquisite oriental floral prints in three colour ways.
Whether you are wrapped in the lace of the Rita nightdress or staying cool in a colourful Coco Set, or lounging around in your Colette Pyjama, it is our hope that you carry with you the romance of Como, pure waters of Northern Italy, and the escape of a weekend away where preoccupations of life are momentarily eclipsed.
Cécile Gavazzi – Founder of Morpho + Luna"

View our new collection, photographed at Villa Cramer Tassera here, and browse our full range of luxury loungewear and nightwear here.
PHOTOGRAPHY: Caroline Gavazzi