ORCHIDAE: SS19 COLLECTION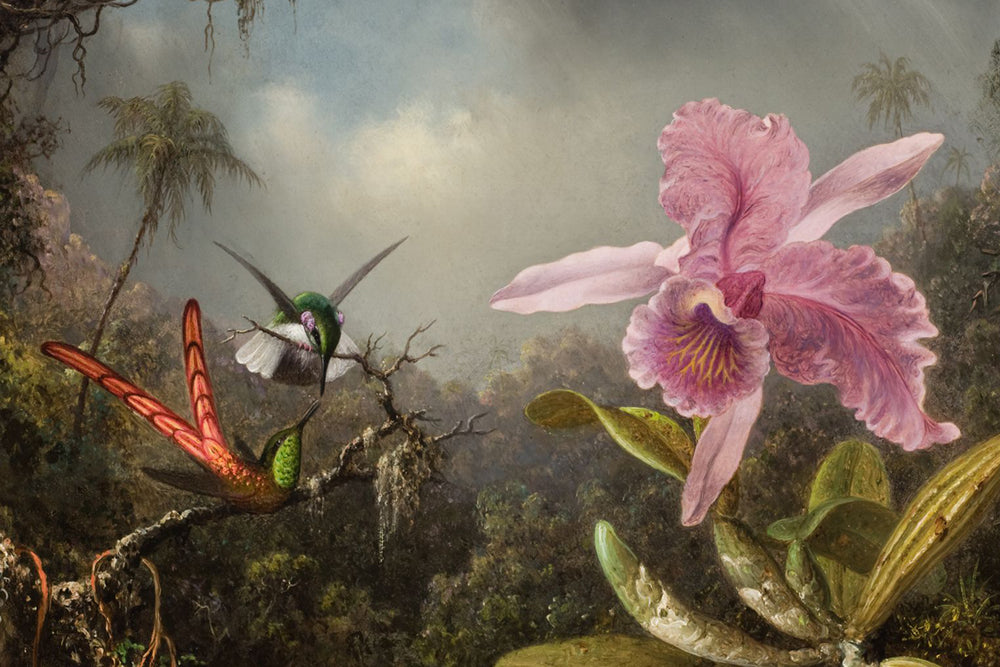 For spring/summer 2019, Morpho + Luna has introduced a bespoke limited-edition print that celebrates some of nature's most beautiful creations: hummingbirds, orchids and butterflies. We have once again collaborated with the artist Tom Gallant, who has created a series of unique prints for the brand over the past few seasons. 
Both the natural world and mythology are key influences in our print designs, and the hummingbird brings together these two themes perfectly. The tiny, delicate creatures, whose rapidly beating wings can give the impression that they are suspended in mid-air, are often found in Greek mythology and legends. They symbolise resurrection or regeneration through their lifeless sleeping pose, which transforms into a frenetic vibrancy when awoken by the sun, while dreaming about hummingbirds is said to bring you joy and good fortune.
In Tom's enchanting print, hummingbirds appear alongside rare and fragile orchids, as well as butterflies, which have become a recognisable symbol of our brand, featuring in many of our limited-edition prints. The new print has been used across several silk garments in a new aqua hue, including our Bianca long-length robe, and two new designs for this season – the Nico nightdress and Colette pyjama set.
The refined Nico nightdress hits just below the knee and features sensual, low-cut crossover straps at the back, while the chic Colette pyjama set comes with contrasting silk trims and mother-of-pearl branded buttons
Also new for spring/summer 2019 is a 100% linen version of our short-length Bella robe featuring handpainted orchids, along with a range of linen separates that are perfect for warmer weather, including short pyjama sets and pretty camisole and short sets with lace detailing. New colourways that complement the seasonal aqua print include coral, poudre and smoke rose.
All of Morpho + Luna's garments are cut for an elegant, flattering fit and, with a wide range of fabrics and colours, are versatile enough to work as either nightwear or daywear, dressed up or dressed down to suit the occasion.
View our new collection, photographed at Richmond's Petersham Nurseries, here, and browse our full range of luxury loungewear and nightwear here.