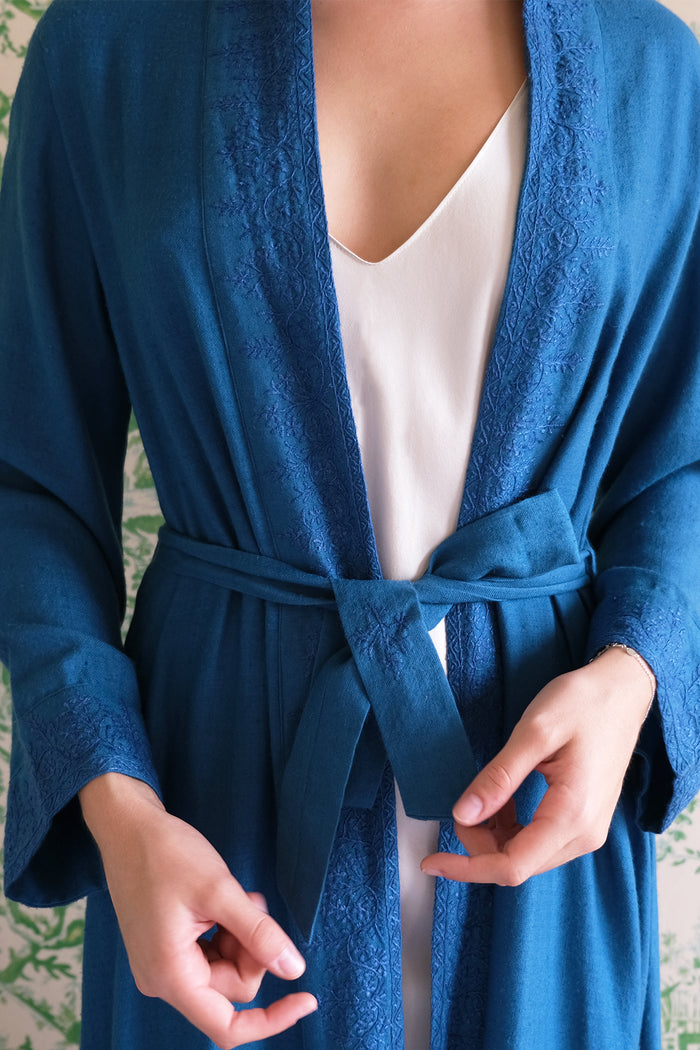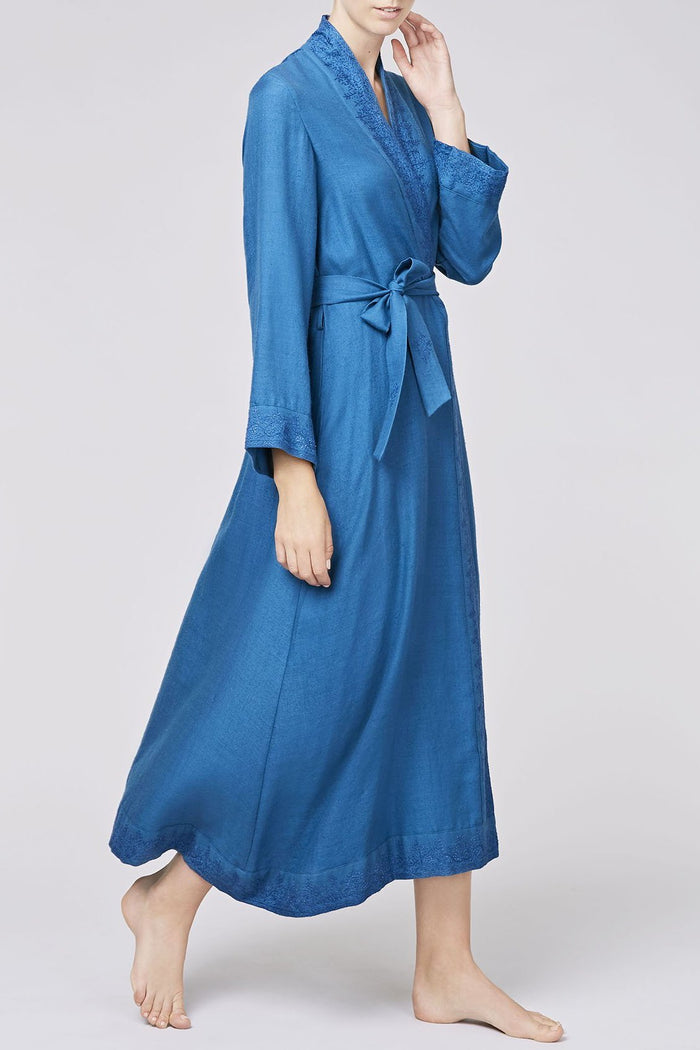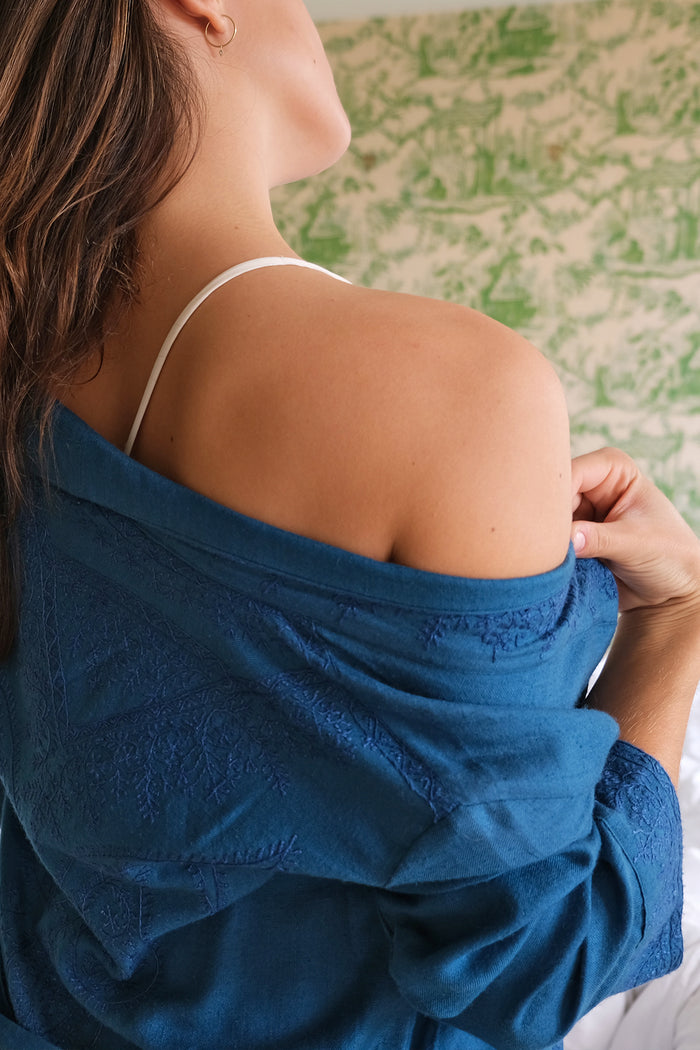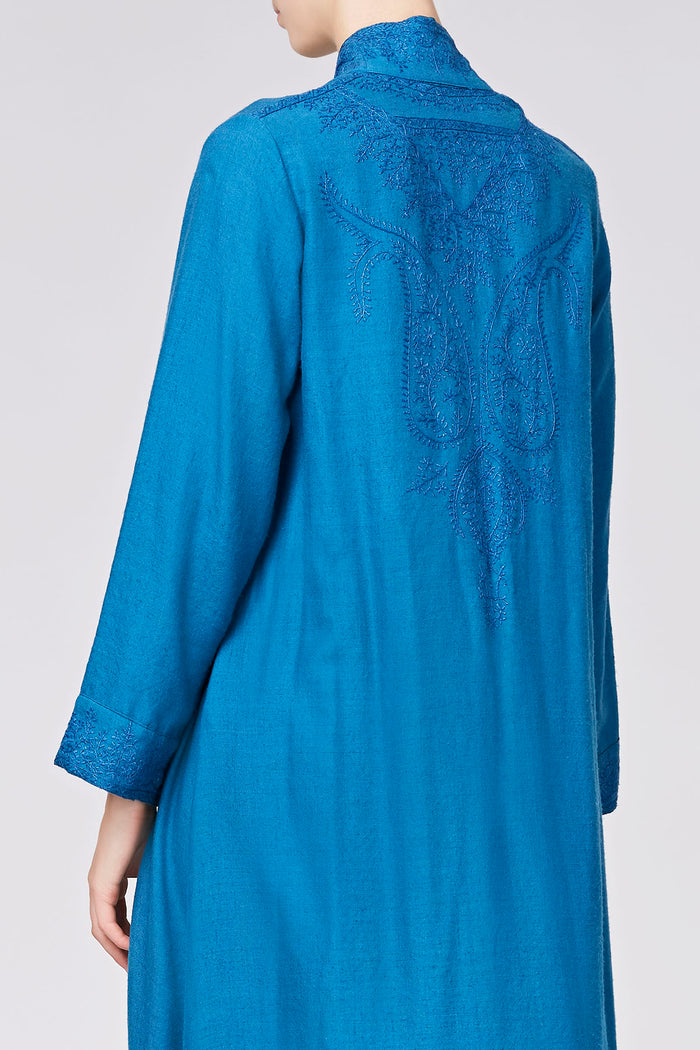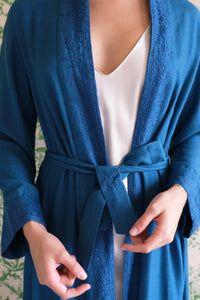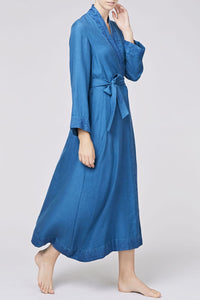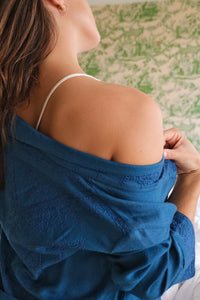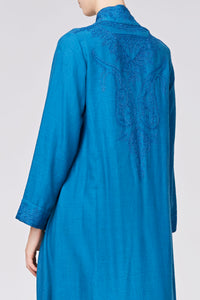 JADE CASHMERE ROBE
Blue
Cashmere
Made to order
Regular price $2,395.00 Sale
Description
Fabric
Fit + Care
Monogramming
Description
YOU CAN OPT FOR OUR MADE TO ORDER SERVICE IF YOUR SIZE IS OUT OF STOCK.
Kindly send us an email at info@morphoandluna.com
This exquisitely detailed cashmere robe is a true investment piece that you'll want to wear and treasure forever.

Handwoven in Kashmir, India, this beautiful robe comes in snow, cord, strawberry, petrol blue, night, peony, and black and features intricate hand embroidery on the shawl collar, sleeves, and back. 
Our pashmina robes are handwoven and embroidered in Kashmir so if your size is unavailable it can be
Made to Order,
simply email:
info@morphoandluna.com.
 Please note it takes one month to produce each robe so delivery will be approximately 4-6 weeks from the date of the initial order.
Fabric
Made from 100% pashmina cashmere. This fabric has been handwoven in Kashmir, and as such, it is unusually light and extremely soft. The hand-embroidered detailing and luxuriously warm fabric make it perfect for all seasons, year after year.
We are committed to slow fashion and Italian craftsmanship and are extremely proud that all of our luxury collections are produced at small family-run factories and laboratories in Italy, with the exception of our Pashmina gowns which are hand-embroidered and hand woven in Kashmir. All of our suppliers comply with strict EU regulations and the materials we use are traceable, transparent, and guaranteed to be fair and responsible at every stage of the production process.
Fit + Care
◌ Fits true to size
◌ Model is 5ft 10in/ 1.78m, is a size UK8, and wears a size S
(UK08/ US04/ 40IT/ 36FR)
◌ Dry clean only
◌ For more information please consult our care guide or email us at info@morphoandluna.com

Monogramming
We work with the finest machine Embroidery Ateliers in Milan to provide customers with a bespoke monogramming service available on any of our styles in an array of lettering fonts and silk thread colours. This bespoke service takes just one week and prices start from 10€ per letter. Please email info@morphoandluna.com for more information or to arrange this service.

*Please note that monogrammed items cannot be exchanged or returned unless faulty.