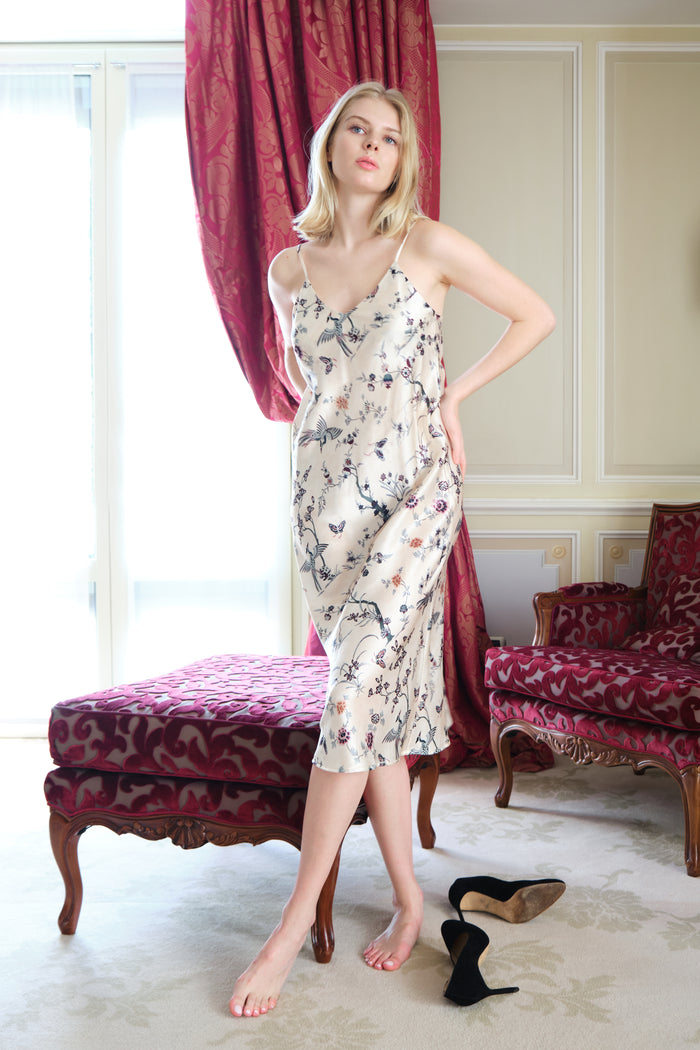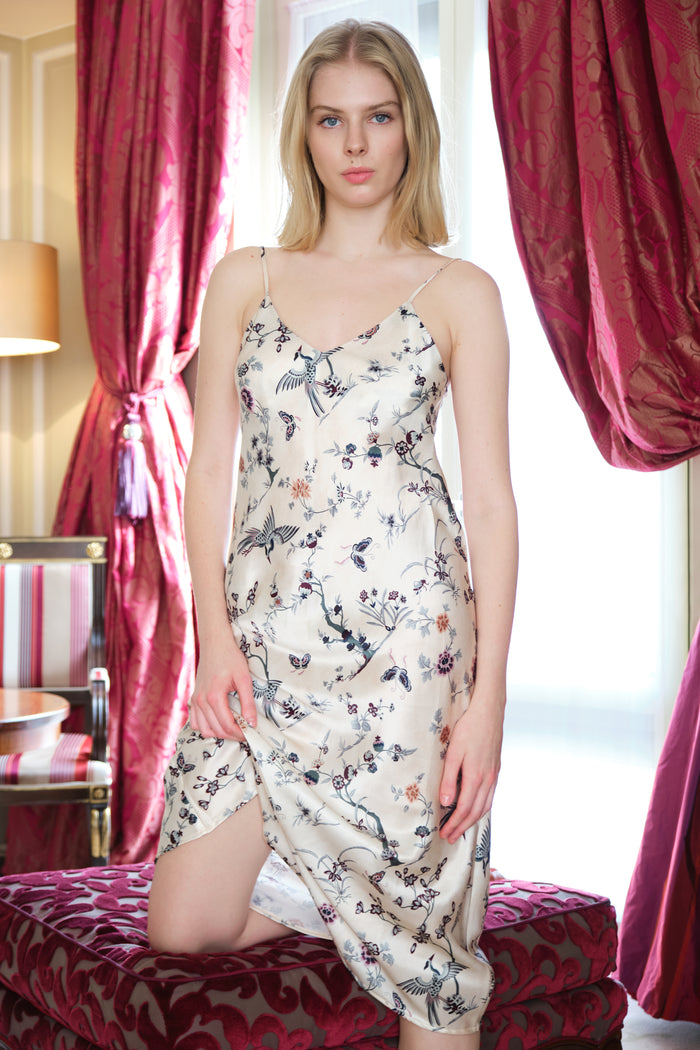 DORA MIMI SILK MIDI SLIP DRESS
Ivory
Made to order
Mimi Thorisson Capsule
Regular price $471.00 $571.00 Sale
Description
Fabric
Fit + Care
Monogramming


Description
THIS STYLE IS EXCLUSIVELY MADE-TO-ORDER AND WILL SHIP IN 4 WEEKS.  
For further information please email us at info@morphoandluna.com
Indulge in the enchanting allure of the Orient with our exclusive AW23 Capsule Collection, co-created with the renowned style icon Mimi Thorisson. This limited-edition capsule marries the sophistication of Eastern aesthetics with our signature craftsmanship, offering a timeless fusion of luxury and comfort for your sleepwear and loungewear wardrobe.
The Dora Slip Dress is designed to drape fluidly, embracing your silhouette with a gentle elegance. The soft V-neckline and delicate, adjustable straps add a hint of subtle sensuality, making it an ideal choice for both intimate evenings and stylish loungewear looks.
Seamlessly transitioning from day to night, it is a versatile addition that adds an air of sophistication to any occasion.
Product Details:
Exquisite printed silk dress
Tubular adjustable straps for personalized comfort
Graceful V-neck design
Relaxed silhouette for unrestricted movement
Crafted from 100% 19 momme mulberry silk for an indulgent experience.
Fabric
Crafted from 100% 19 momme silk, renowned for its superior quality, this mid-weight fabric boasts exceptional durability, a sumptuously smooth texture, and an indulgent, luxurious feel.
Made from natural fibres, silk is a naturally hypoallergenic, soft and extremely strong fabric meaning it is perfect for long-lasting wear day or night. We are committed to slow fashion and Italian craftsmanship and are extremely proud that all of our luxury collections are produced at small family-run factories and laboratories in Italy. All of our suppliers comply with strict EU regulations and the materials we use are traceable, transparent, and guaranteed to be fair and responsible at every stage of the production process.
Fit + Care
◌ Fits true to size
◌ Model is 5'8.5/ 1.74m, wears a size S
◌ Gentle hand wash or machine wash on a delicate cycle
◌ Rack or line dry. Do not tumble dry
◌ For more information please consult our care guide or email us at info@morphoandluna.com

Monogramming
We work with the finest machine Embroidery Ateliers in Milan to provide customers with a bespoke monogramming service available on any of our styles in an array of lettering fonts and silk thread colours. This bespoke service takes just one week and prices start from 15€ per letter. Please email info@morphoandluna.com for more information or to arrange this service.

*Please note that monogrammed items cannot be exchanged or returned unless faulty.