HERBARIUM DIARIES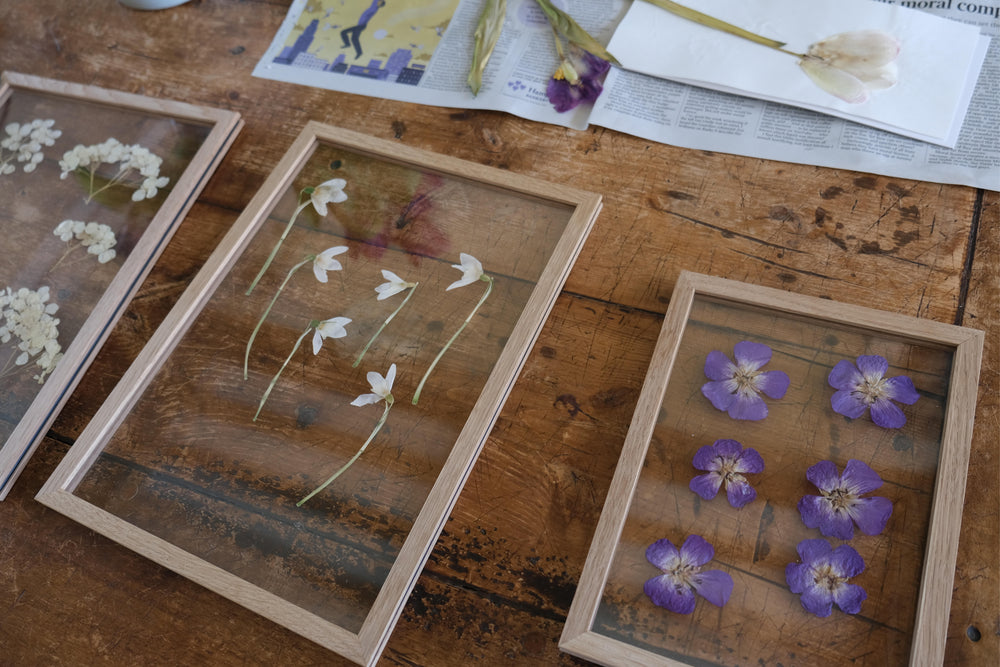 For those of you who asked to see more of our founder, Cécile's Herbarium project, we've put together some tips, tricks and photos, to help inspire you to create your own. It's really easy and the results are beautiful.
Selecting the right flowers
My daughter and I have been doing this for some time as we're aiming to fill an entire wall of pressed flowers, collected over the course of the year, to represent the changing seasons. We've found that every season brings something different and unique, so it's a great all year round activity.
Firstly you need flowers, leaves or petals - whatever you can forage from your garden or on your daily walk. Wet ones are prone to mould so make sure to select only dry ones!
If you cut flowers, make sure to put them straight into a bucket of cold water; this is essential to ensure they remain fresh and don't wilt.
All flowers look lovely when pressed but if you can't find any don't worry! Leaves, grasses and herbs work just as well and the end result is surprisingly beautiful.
Pressing your flowers
Prepare you flowers by removing any unwanted leaves and lay them out. There is no wrong way to press, just make sure the flowers aren't touching - often the ones we thought were the worst turned out the best.  
Using tweezers, delicately place the flowers between two sheets of blotting paper and then sandwich them between pieces of card. Initially we used books, but then we got organised and ordered a flower presser from Amazon!
If you're using a book to press, close it carefully and place heavy books on top. Make sure you then move it somewhere out the way, so it doesn't get knocked!
Leave for 3-4 weeks until they have a papery feel. Replace the parchment paper a couple of times throughout to prevent the flowers from browning.
Framing
We love to frame ours, but if you'd prefer not to, they are also great for card making and other arts and crafts. We got our frames from Moebe which is a Danish brand. I adore them as the quality is excellent and they come in a variety of sizes and colours.
If you decide to frame your flowers, make sure you clean the frame using a damp cloth first and dry it thoroughly before use. Don't use cleaning products as the ingredients may react with the flowers.
Use tweezers to place the flowers on the glass. Take care here, pressed flowers can be very delicate, and you don't want to damage them.
Now it's time to get creative and experiment with patterns, colours and shapes.
It's great fun and my daughter and I love seeing how each one ends up looking so different from the last.
Ps. We would love to see your creations so please do share them with us!

Thanks for reading, we'll be back soon with more from Cécile, who will be sharing her favourite recipes and table setting ideas.