WORKING FROM HOME WITH OUR FOUNDER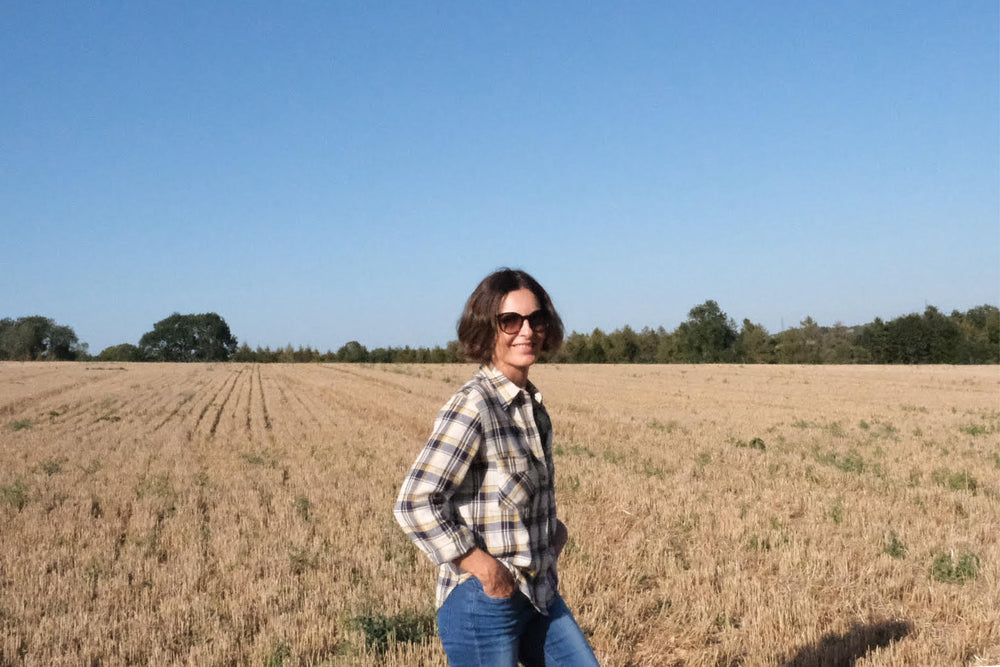 As the lockdown continues, we're checking in with Morpho + Luna founder and creative director, Cécile Gavazzi. Cécile created Morpho + Luna from her kitchen table in 2014 and today will be sharing with us how she's juggling working from home with spending quality time with her three teenage children.
How are you spending your time at the moment?
I have been at my house in the Cotswolds since February with my family and have been busy working on Morpho + Luna's upcoming 2020/21 collection and looking after my children.
How are you staying calm with everything that is going in the world?
It's been a bit of an emotional rollercoaster, as I'm sure it has been for so many others. Some of my friends in Italy have lost family members and I cannot imagine how heartbreaking it must be to not be able to be with them in the hospital. It makes me feel so lucky to be able to stay at home, safe and healthy, with my family and my deepest condolences go to all those who have lost loved ones during this crisis.
I cannot imagine how hard it must be for them, and all the doctors, nurses and other key workers who are working tirelessly, putting their own lives at risk, to care for others. We owe them so much and I cannot express how thankful I am for all that they are doing.
What have been some of the challenges you've faced as a small business at this time?
All of our collections are handmade in northern Italy which has made navigating the current crisis even more difficult, and I spend a lot of my day on the phone checking in with our suppliers and manufacturers. It's challenging but I am a firm believer in 'Made in Italy' so, now more than ever, I want to support my country, and Morpho + Luna's business community to help preserve their amazing craftsmanship and skills. 
Do you have a morning ritual or routine?
Yes, I wake up between 6.30 and 7 am every morning, as I like to have some time to myself before the whole family gets up. The first thing I do is drink my 'morning potion', an anti-inflammatory Indonesian drink called Jamu, made of turmeric, tamarind and ginger. In Indonesia, they've been drinking it for thousands of years as its intensely flavoursome and great for your immune system. It's usually served chilled but I prefer to drink it really hot!
What does an average day look like for you? How are you finding balancing working from home with the children?
I'm one of those people who needs a work life balance, and this can be difficult when you run your own business - I find a routine helps otherwise work can constantly take over! Most days I'm at my desk working until about 11.30 am, although my team and I talk constantly, and are always discussing new and ongoing projects and ideas throughout the day. I then take a short break to make lunch for my children, usually a salad or soup – they all have online school at the moment and their lunch break is at 12.30 pm.   
I'm then back at my desk until school finishes at 4 pm. We then make sure to spend quality time together; everyone is so busy during the day with their own projects and work that it's important we reconnect and take some time to breathe.
We do a lot of arts and crafts as my daughter Bianca is very creative and is always working on new projects. Currently, we're creating a Herbarium, so spend a lot of time collecting fallen flowers, petals and leaves from our garden which we then dry and frame. Our aim is to fill up an entire wall in the house, it's really therapeutic and we love working on it.
If work is busy I'll go back to my desk for a few hours in the evening, usually with Bianca sewing next to me. She taught herself on Youtube and spends hours mastering various projects. At the moment she's taken inspiration from Morpho + Luna and is making lavender and wheat silk pillows using the left-over silk from our 'Les Irresistibles' accessories collection. We cool them in the freezer or heat them in the oven. They smell heavenly! 
Every evening before dinner we all go for our daily walk as a family, it's a time for us to unwind and for the boys, in particular, to burn off some energy!
How are you spending your evenings currently?
Being half French and half Italian, cooking and a deep love of food is central to family life. My teenagers are all good cooks, especially my second child Marco and we love experimenting in the kitchen. I'm always coming up with new and improved recipes!
One of my greatest passions in life is reading and I find it the perfect way to unwind before bed. I'm currently re-reading the first novel of Suite Française, Tempête en Juin, which portrays the lives of those forced to flee Paris just hours before the German Nazi invasion in June 1940. It's deeply moving and reaffirms my love of classical literature every time.
Thanks for reading, we'll be back next month with more from Cécile, who will be sharing her table setting ideas.