A NEW NARRATIVE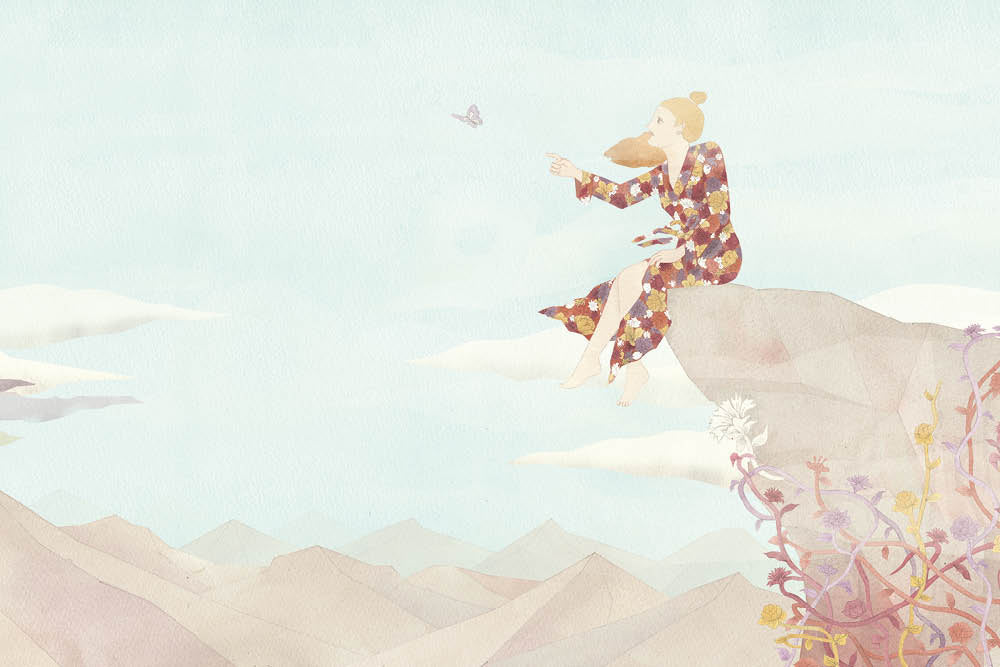 Has the pandemic made you reassess the way you do things?
At Morpho + Luna we have been using the extra time afforded by working from home to reflect on our working practices. Sustainability and craftsmanship, with the emphasis on slow, local production in Italy, home country of our founder Cécile Gavazzi, has always been at the heart of our designs. Recent events, which have thrown a spotlight on the environment and the importance of healthy, happy work places, have only served to strengthen our commitment to our ethos.
This year we have chosen to communicate our story in a way that was poetic and resonant, one that would capture the imagination and allow the mind to travel. This is especially important now when so many of us are confined to home. As Cécile puts it: 'We wanted to tell our story in a different, more intimate and authentic way, one that makes us dream and hope with an improved sense of purpose and appreciation of the things that really matter in our lives.'
Through Spaghetti Digitali, a creative digital agency in Bologna, we were introduced to the work of Diederik Pierani, a Milan-based illustrator. At Morpho + Luna, we have always enjoyed collaborating with artists, designers and brands who share our aesthetic vision. We instantly fell in love with his sensitivity and the poetry of his drawings, rendered in a mix of acrylics and inks. An illustration can convey so much in a few lines and speak to so many senses. Diederik's expressive work, with its deft and delicate sense of irony, does all this.
Over forthcoming months, Diederik will be illustrating the Morpho + Luna story in a series of still and animated artworks. Each will capture the Morpho + Luna mood and feel, one that celebrates the small, slow pleasures of being at home and at ease in our fluid, timeless home wear. Discover, through his work, the secret power of flowers in our new range of sleepwear Jardin de Nuit, a vibrant mix of limited-edition floral prints on teal and chestnut-hued silks.
Please join us on this beautiful journey.
Cocooned in the heavy silk of a coppery Morpho + Luna dressing gown, our mountain-top heroine reaches towards a butterfly, the symbol of our brand. Look more closely at the painting and you will notice a diminutive white flower. It appears on the scrolling print of our Jardin de Nuit robe and in the tangle of foliage beneath our sitter's feet. This is an Edelweiss: a survivor among flowers. Tiny but spiky, its petals furled like a white anemone, these deceptively pretty blooms thrive in the highest and rockiest crevasses of the highest Alpine peaks. In the language of flowers, popularised in 19th-century books, the Edelweiss has come to symbolise courage and strength: qualities which have never felt more relevant today.
It is almost midnight in the imaginary garden. The air is heady with the scent of fantastical, towering plants; the inky-blue sky is pin pricked with thousands of tiny stars.  Fireflies, like hovering jewels, illuminate the dark undergrowth.  Lit by a benign moon, the Morpho + Luna girls have met to chat, reminisce and confide in one another.  Reaching for her sketch book one of our heroines starts work on a portrait of her friend.  
As the conversation deepens, the tone shifts to a more reflective mood.  With the openness of old friends, comfortable in each other's company and without pretence, they share the sadness of unrequited love, they express their ambitions and they dream of brighter, easier times.  The themes of their exchanges are captured, subtly, in the print of their Morpho + Luna sleepwear with its densely-entwined blooms printed on glowing silk.  Against the fabric's backdrop of deep teals and forest greens, each flower carries a secret message.  There are Japanese peonies, also known as the King of Flowers, which symbolise wealth, bravery and honour. 
And there are blowsy blue roses – a motif of the Romantic movement captured in countless paintings – which represent love, desire and hope.  In the language of flowers, the blue rose was also a resonant gift. When exchanged between friends or lovers its message was, unequivocally, 'you are wonderful and unique.' Much, you might say, like the Morpho + Luna girl. 
It is a winter's afternoon. Rain streaks the tall windows; lightning pierces the slate-grey skies outside our imaginary apartment. But the Morpho + Luna girls are cocooned from the elements in their peaceful home. There is music, there are books to read, tea to drink and long, wide-ranging conversations to be savoured in private. Whatever else may be happening, says this image, there is delight to be had in domesticity with its small, but undiluted, everyday pleasures of warmth, security and companionship.
As we reflect upon this unusual and unforeseen year, dominated by serious concerns, our team has been more determined than ever to bring a whisper of hope and poetry to all your lives.

Joy in 2020 has truly been about focussing on the small but good things in life and through our collections, we have sought to provide moments of comfort and pleasure at a time when so many have been confined to home.

To that end we wanted to share with you a note we received from one of our lovely butterflies in Italy, whose words perfectly captured what we hoped to achieve:

"In a year in which the pandemic has devastated the whole world and my wonderful country, the fundamental thing to do to counter the spread of the virus is to stay at home, take care of yourself and love yourself as much as possible. To me this meant to rediscover what I like, what makes me laugh and what softens me.

Over the past few years your wonderful pieces have made me feel beautiful, feminine and romantic and in this deeply painful year, they have been a constant in my everyday life. They made it possible to still feel the beauty around me and to retain the brightness and elegance inherent to all of us as individuals.

I hope that going forward we are able to draw strength from this period and rediscover what's truly matters in our lives." Chiara L., Pisa, Italy.

From all of us at Morpho + Luna we would like to wish you a happy and peaceful Christmas and Holiday Season.

As the first January sunshine spills across the floors, the atmosphere of this decorative, art deco setting is both peaceful and joyous. It's a moment that captures the delights of domesticity; of home as a place to be shared with others but also as a haven to enjoy alone.

As this delicate pen and watercolour illustration conveys, everything we do celebrates the nurturing aesthetic of home and its role in our wellbeing, as a backdrop for both shared and private memories.

And with friends and family uppermost in our minds after an unusual year, all of us at Morpho + Luna would like to wish you a happy, healthy and restorative New Year.


It's witching hour in the magical world of Morpho + Luna. Creativity strikes our heroine, in her rose-strewn Jardin de Nuit pyjama, as moonbeams steal across the spines of books and scattered jottings At Morpho + Luna we believe that clothes should elevate - and inspire. So be warned: when you don one of our designs the muse can appear, at any time.


To shop the "Jardin de Nuit" collection please click here.