THE BUTTERFLY EFFECT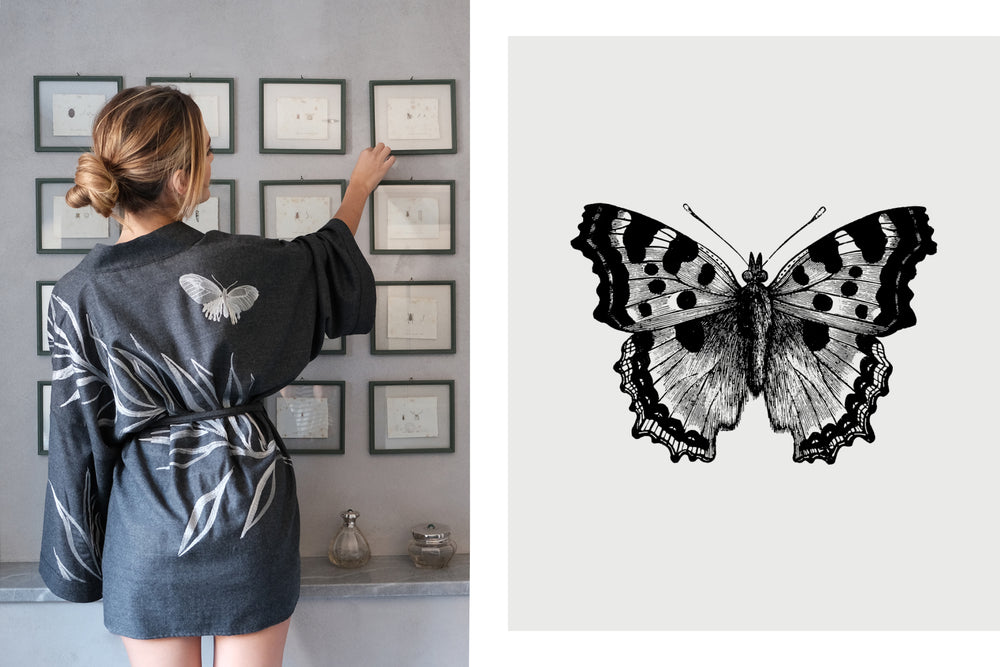 Our "Papilio Gallery" and its "Butterfly Effect"
We believe in the power of kind words as a creative force. Like a butterfly that beats its tiny wings, compassionate, positive, thoughtful and encouraging words, with their small positive vibrations, can echo endlessly and their impact can be felt around the globe producing a "Butterfly Effect."
From our founder Cécile's kitchen table, to a team of five strong, motivated and committed women, kind words have enabled us to grow our brand to where it is today and the feedback we received from so many of you has truly blown us away.
As a company we try our best to go the extra mile for our customers and ensure that every detail of your experience with us reflects who we are as a brand and what we believe in. We are wholly committed to providing service that matches the quality and excellence of our products and work hard to ensure that we are on hand seven days a week to answer any questions you may have. We personally wrap and ship all of your orders from our Milan Studio to ensure that they reach you as quickly as possible and are on hand to deal with any problems or organise any alterations you may need.
This, together with your kind words, have enabled us to create a thriving kaleidoscope of butterflies around the world and we are so grateful to all of you who shared your feedback with us. Please know that your comments inspire and motivate us every day to keep on creating beautiful, timeless pieces to be enjoyed now and for years to come.
We love to collect them here in our "Papilio Gallery" and would be delighted if you would add your words at the bottom of the page.
With love and gratitude, 
Cécile & the Morpho + Luna team
"In a year in which the pandemic has devastated the whole world and my wonderful country, the fundamental thing to do to counter the spread of the virus is to stay at home, take care of yourself and love yourself as much as possible. To me this meant to rediscover what I like, what makes me laugh and what softens me. Over the past few years your wonderful pieces have made me feel beautiful, feminine and romantic and in this deeply painful year, they have been a constant in my everyday life. They made it possible to still feel the beauty around me and to retain the brightness and elegance inherent to all of us as individuals. I hope that going forward we are able to draw strength from this period and rediscover what's truly matters in our lives."
Chiara L., Pisa, Italy
"Lovely experience. Phenomenal silk quality. The original robe I received was slightly damaged. I had no qualms with it and intended to keep it, but the way Emily handled it insisting I exchange it was commendably professional and appreciated. I just received my exchange and it's perfect. The handwritten note was sweet and thoughtful. A great experience all around and so happy with this gorgeous Jade robe! Feels divine!"
Vanessa H., Honolulu, Hawaii
"I have the Bianca robe in aqua (and matching Nico nightdress) and truly, it is exquisite, and one of my favourite items of clothing. ⭐️⭐️⭐️⭐️⭐️ I also have the matching nightdress and robe in sea forest and they're also fabulous."
Heather M., Washington State, USA
"Thank you for showing me your wonderful collection, at last I found robes and nightgowns that make me feel happy!! Wore it last night, although it was another film night I felt like a Queen!!"
Maria V., London, UK
"I ordered the silk Luna night gown and robe set and was fascinated with the jewel tone colour, the soft silk fabric and the beautiful packaging with the personal note! The entire experience from browsing the site, to ordering and then receiving my parcel was truly exquisite! Morpho + Luna is indeed luxury personified and I can't wait to add to my collection!"
Mansi Y., Gurgaon, India
"I am absolutely over the moon with my robe. The most exquisite fabric I have ever worn."
Sarah M., Amsterdam, Netherlands
"My wife's robe just arrived in Amsterdam, beautifully packaged, perfectly sized, and she is completely over the moon. It is beautiful."
Frank D., Amsterdam, Netherlands
"In 2015 I bought my first Morpho + Luna robe in St. Moritz / Switzerland, I could not believe it but this robe was perfect!!! The first label in my life that produces beautiful, high quality, elegant bathrobes for women with an extraordinary fit. Morpho + Luna robes are absolutely feminine, create a stunning silhouette with a slim cut and yet, are big enough and - very important- the long models are long enough! I cannot get enough of these beautiful and feminine pieces. I wear four different robes of Morpho + Luna and I love them all! Thank you Morpho + Luna!"
Carola H., Düsseldorf, Germany
"I really love the soft touch of the fabrics and the timeless designs."
Yiting W., Kaohsiung, Taiwan

"I love feeling beautiful while sleeping and staying at home! Morpho + Luna checks all of the boxes when it comes to the most beautiful luxurious sleepwear. It's super comfortable and always made with the best fabrics which is a must for me. Wearing M + L makes me feel good and gives me the uplift I want during this time. I love purchasing from M + L because they flawlessly deliver beautiful pieces to splurge on myself or as gifts!"
Sofía V., Panamá City, Panamá

"My nightgown is so beautiful! The cut is amazingly flattering and the fabric and lace are gorgeous quality. I feel so elegant in it, it was well worth the investment."
Deborah M., Walton on Thames, UK

"There are very few things worth the awakening in the morning. One of these is wearing a Morpho + Luna dressing gown."
Michelangelo M., Milan, Italy
"Whenever I need a gift for a special friend I dip into the Morpho + Luna website where I find the most exquisite things. The designs, the fabrics and even the beautiful packaging makes it a pleasure. I admire Morpho + Luna's creativity and their dedication to supporting local craftsmen. Bravo!"
Beth G., London, UK 
"Morpho + Luna is so amazing and I'm very particular about sleepwear! The fabric, the prints - everything is just exquisite!"
Ishani V., Chennai, India

"I have my goodies and can't wait to wear them....my existing blue pair is my all-time favourite so I'm ridiculously excited about going to bed tonight already!!"
Kate D., Berkshire, UK
"We love our Morpho + Luna gorgeous cashmere robes and silk robes. The quality and lightness of the cashmere is so luxurious and the silk prints and matching nightgowns are an incredible guilty pleasure. Thanks for making us comfortable, stylish and beautiful! The extra touch of beautiful wrapping paper on the items makes each Morpho + Luna piece feel like a birthday present!!! Thanks for making us feel like princesses!"
Mary Anne B., Ontario, Canada

"I love, love, love the beautiful silk kaftan! I have two, and these are the only ones I sleep in. The silk is truly amazing and the quality is wonderful."
Samantha S., Oslo, Norway

"I ordered some beautiful Morpho + Luna presents for Christmas. They arrived exceptionally lovingly and stylishly packaged - sooooo pretty I don't even like to unpack the individual pieces. My friends get theirs originally wrapped by Morpho + Luna, completed by my red ribbon. Beautiful and high quality night and lounge clothes!!! I'm delighted anew every time!!!"
Carol H., Zurich, Switzerland

"Your pieces are of incredible quality and give me a lot of joy wearing them."
Olga P., New York, USA

"I have always loved pyjamas and when (through Instagram) I discovered Morpho + Luna I had the confirmation that comfort and elegance could be worn at the same time. I bought online and found the service punctual and precious just like their clothing."
Francesca L., Florence Italy

"I learned about M + L from one of the leading Swiss newspapers and had to visit the website right away. Impressed by the design of the products and the ethical values of the company, I ordered a summer pyjama made of linen. The speed with which it was delivered to me in Switzerland surprised me. Beautifully and lovingly packed, I was delighted with the high quality and manufacture. We read a lot about the consequences of fast fashion, therefore it is important for me to buy products that I will enjoy for a long time and which are produced sustainably. M + L fulfil this perfectly for me. I will certainly buy more products from this brand and give the company the best marks."
Marianne G., Winterthur, Switzerland

"I have treated myself to a couple of gorgeous items from Morpho + Luna. They are beautifully made from exquisite fabrics with every little detail considered. My eye mask for instance is the best one I've ever had and I plan to order a few more just so I will always have one… I'm so glad I found this gem of a company."
Margaret, USA

"The fabric is beautiful!" 
Nicky S., Tuscany, Italy

"I have just received my order in the noon...the set is MAGNIFICENT. I am enchanted and congratulate you on the beautiful quality of your work. The silk is extremely beautiful. P.S. It is the first time when I receive so fast an order! It is exceptional!"
Marine M., Angers, France 
"Your pyjamas are very very dear to me as the silk is absolutely amazing. And yes, I love the idea of Italian craftsmanship because I then know that the quality will stay over the years."
Marianne A., Wassenaar, Netherlands
"After discovering your site I can't imagine buying intimates anywhere else you are truly a one of a kind! I love your philosophies and customer service!" 
Lisa C., Toronto, Canada

"Absolutely love Morpho + Luna's PJ's, simply the best! 5* styling, cotton and customer service."
Suzanne G., London, UK

"Morpho + Luna is more than a pyjama, it is chic, soft, and classic. The amazing silk fabric feels like a second skin. The fabric is amazing!!! Wearing a Morpho + Luna PJ makes me happy!"
Yuki G., London, UK

"I love your prints and use of colour."
Linda A., Cornwall, UK
"I like all the pieces I have bought for me or as presents."
Cristina W., London, UK

"Morpho + Luna embodies a combination of not only ultimate luxury in its exquisite fabrics but also humility in its simple cuts and designs. Wearing a Morpho + Luna pyjama makes you feel like you're floating on a cloud. Everything Cécile and her team make is the definition of pure elegance and sophistication. There is not one thread out of place."
Carolina B., London, UK

"I am always inspired by Morpho + Luna as I learned to enjoy the grace and joyful elegance of the nightgowns patterns and feel. M + L has become a friendly e-place to visit and be inspired, to enjoy and to share – it's a never-ending source of conversation and elegant fun."
Fabrizia C., Milan, Italy

"I have been purchasing from Morpho + Luna on a regular basis. I was looking for quality and luxurious items such as pyjamas and night robes and I was extremely happy when I came across Morpho + Luna. I made my purchases from their website and all transactions were smooth and timely. I strongly recommend M + L to anyone looking to treat themselves or others with luxurious gifts."
Ramona S., California, USA

"I bought this pyjama for my girlfriend as a gift. The packaging was simple while sophisticated. The pyjama is well fitted. The garment is very soft thus making the pyjama very comfortable to wear. The pyjama remains fresh even when it is hot during summer. The colour is like the photos and the lace give a nice elegant touch. I would highly recommend it."
Hubert D., Paris, France
"Just made my 3rd purchase - and 2nd pair of Zac trousers!! Love love!! Also so loving the compostable packaging!"
Katrina S., Seattle, USA
"I love both the style and the quality of M+L pieces and the service is excellent."
Gilly F., Malpas, UK
"We had great customer experience buying from Morpho + Luna. Packaging and handwritten card were as beautiful as the silk pieces we bought. All fantastic quality and taste. Although we are far, in Singapore, when we had to return one of the items we bought, Morpho + Luna staff promptly helped us."
Tais B., Singapore, Singapore
"Both items are beautifully made - the fabric is heavenly and the print is one of the loveliest and most creative I've ever seen - truly gorgeous. Items arrived in a timely manner and were very nicely presented complete with a handwritten note."
Rose K., Pittsburgh, USA
"My wife is delighted with the camisole set and we will be back for some further purchases."
Marc D., London, UK
"I love your sleepwear. They are so comfortable and the fabric is soft. I love linen. Ordering was easy and simple and delivery was fast. And the pretty paper wrapping was a nice touch."
Kathleen H., Settrington, UK
"The founders and design team behind Morpho + Luna have understood the need to create elegant and attractive night and loungewear for the sophisticated girl and woman. I really like their focus on quality and sustainability which has increasingly become important for me over the years. I think of their designs as investment pieces."
Bianca P., Heyshott, UK
"Morpho + Luna transforms my going to bed experience by making be feel beautiful, elegant and chic every time I put on my Ines pyjamas. From the feel of the material to the beautiful cut and timeless design - I feel confident and beautiful."
Ashmita H., London, UK
"Having acquired a number of items throughout the past few years, I am happy to say that they are all of superb quality, comfortable and elegant!"
Federica S., London, UK
"I ordered a beautiful set of linen pyjamas from Morpho + Luna. They were very soft and I could tell by the feel that the linen was of the very best quality! I had an issue with the fit and the customer service was fantastic. I would definitely order from Morpho + Luna again!"
Angela S., Michigan, USA
"I have a lot of silk garments, from 19 to 30 momme mulberry silk items. Your robe is insanely soft and by far the softest silk I've ever touched. I've never had a sand washed silk garment before, but it's on another level. It's unbelievably softer than the silk from my favourite dresses that say they're made with the finest Italian silk. Two of my favourite dresses that are made of Italian silk are now noticeably not as soft compared to the suede-softness of your silk. I love that you promote slow fashion and focus on high quality pieces that will last 💗 So glad I found your brand."
Vanessa H., Honolulu, Hawaii
"I bought this set of black silk pyjamas for my partner for her birthday and she was blown away. They are beautifully made, impossibly stylish, and comfortable while being luxurious. My partner is very particular about what she wears in bed and these pyjamas were a palpable hit."
Harry O., London, UK
"Beautiful pieces crafted in quality silk. I recently purchased 2 sets which I'm highly impressed with. Additionally, fit is true to size. Definitely my new favorite nightwear brand."
Christina G., Luxembourg, Luxembourg
"Everything about Morpho und Luna reflects style and class !!!"
Carol H., Zurich, Switzerland
"My wife absolutely loves them! Thanks so much for your caring assistance with this order."
Alex F., Connecticut, USA
"Wearing my Morpho + Luna Jade Robe makes me feel special, I love it!"
Ayalnesh S., Bermuda
We are currently working hard to grow awareness of our brand and
whilst you are here
wanted to ask if you would kindly write us a review
to
share on our website and social media using your first name, first letter of last name, city and country only (eg. Maria N., Milan, Italy)?
In return we'll email you 10% off your next order as a token of our appreciation.

{formbuilder:20915}