TAILORING WITH A TROPICAL TWIST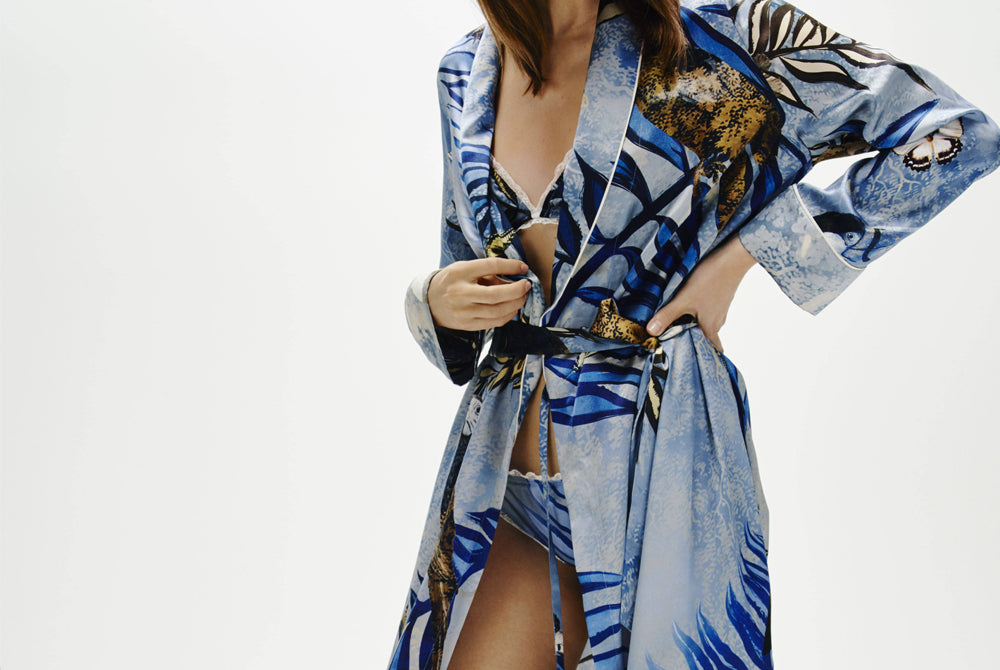 Morpho + Lunas's new loungewear and nightwear collection allows you to make a bold statement while remaining cool and elegant. For Spring/Summer 18, we've introduced a range of luxurious new materials and striking prints for some of our signature styles, as well as revealing some stunning new pieces.
Options include chic robes, dreamy loungewear, tailored pyjama sets and feminine playsuits, all cut for a flattering fit, and available in lightweight materials such as cotton and silk, finished with beautiful satin or lace.
This season's limited-edition print from our ongoing collaboration with the artist Tom Gallant takes inspiration from the tropical island of Réunion. Gallant has also drawn on the on the surreal, vibrant works of post-Impressionist artist Henri Rousseau, bringing the island's stunning scenery to life in a print that features bold foliage, brightly coloured birds-of-paradise and, of course, Morpho + Luna's signature motif, butterflies.
The artwork, which has a rich colour palette incorporating deep blues and golds, has been expertly printed onto Italian silk in Como, Italy and used for our signature Inès pyjama set as well as the chic Bianca robe and exquisite Paris nightdress.
The subtle, tropical design also appears as intricate embroidery on our new Gigi and Bella robes. Ideal as lightweight cover-ups, these beautifully crafted long- and short-length robes have wide, kimono-style sleeves and wide waist ties, and are made from a blend of linen and cupro – an ultra-fine, stretch-resistant cotton derivative that is incredibly smooth and creates a stunning draping effect. Both champagne-hued robes feature delicate butterflies and bold foliage, embroidered in Italy using contrasting dark grey ceramic thread.
Other new materials this season include a subtle striped silk, seen here in our Cara pyjama set, which is crafted from 100% Italian, chrome-free silk and finished with elegant black satin piping and branded mother-of-pearl buttons.
The striped silk has also been used for our Inès pyjama set, which also comes in a range of coloured sandwashed silks for Spring/Summer 18. Available in snow, gold, brick or champagne, the set features contrasting lace detailing on the pyjama top and semi-transparent lace side panels on the straight-leg trousers.
For added decadence, our striped silk also comes in gold, as seen in a number of styles, including the pretty Suni camisole and Bina shorts, and the ultra-feminine Capucine playsuit, which features delicate adjustable shoulder straps and an alluring lace back.
We also have a range of chic long and short nightdresses to help you stay cool during the warmer months. New additions include the Marilyn nightdress, an effortlessly sensual long-length nightdress made from super-soft cotton in a snow-coloured hue and finished with Italian cotton lace. It has a full skirt and a halter-like bodice made from two pieces that come together behind the neck, leaving the arms, shoulders and back bare.
For a shorter style, our Margot nightdress is inspired by traditional handmade Florentine nightdresses. It comes in striped Italian silk and features delicate double straps as well as a contrasting black lace trim around the décolletage and along the thigh-skimming hem. On cooler evenings, pair it with the coordinating Alix Robe.
You can see more of Morpho + Luna's new collection and browse our full range of luxury loungewear and nightwear here.