AT HOME WITH: ANNA BARNETT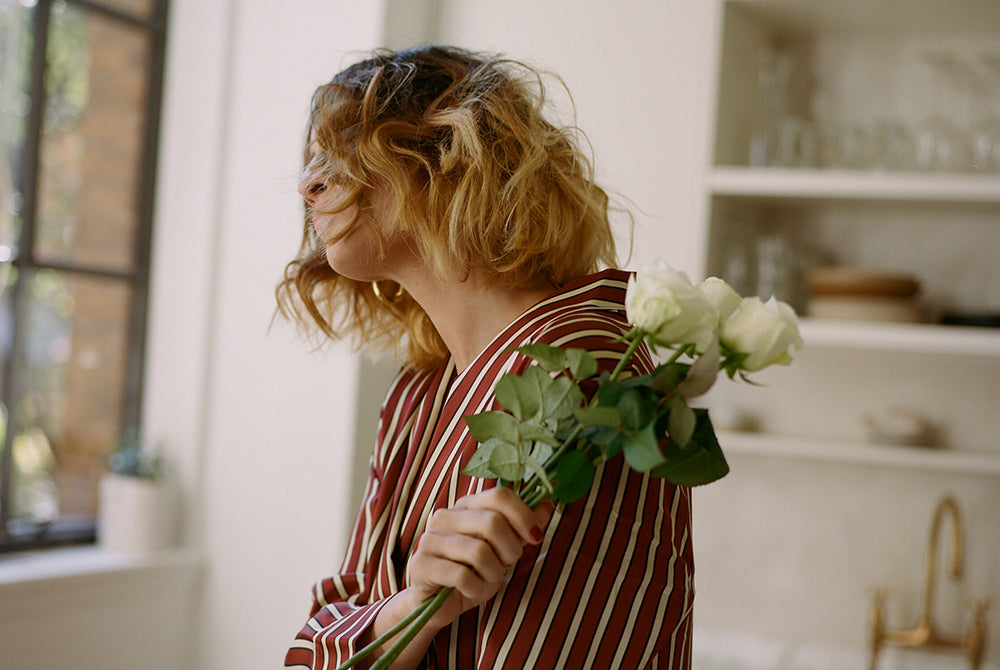 Anna Barnett began her career working for MTV and Channel 4. She then went on to work in fashion, as part of the team at House of Holland. Anna has always been passionate about food, writing a blog for the Independent newspaper for several years, and releasing her debut cookery book, 'Eat the Week' in 2015. She has since turned her passion for food into a hugely successful career as a food-blogger, chef and food writer, writing regular columns for Grazia and the Evening Standard and supplying recipes for Vogue, as well as running her own website, annabarnettcooks.com.

We love Anna's authenticity, gracefulness and passion for what she does, and this is why she makes a perfect muse for us. We spent a day together to find out more about her creativity, her values and her unique style.

Can you tell us about your London home? How did you find it and what is the history behind it?
We live in an old converted school in Hackney. We were desperate for a space that had high ceilings and lots of light, and was open-plan. It wasn't quite this when we bought it but you could see it had potential, and a year and half later we've almost finished the renovations! It's a bright, open space, with the kitchen at the heart of it.
What is your design aesthetic and how have you introduced this into your home?
I'm always quite torn between aesthetics. I'm naturally drawn to that busy, antique-filled, homely cottage vibe, but in equal measure I love the very clean, minimalist calm of a neutral palette – and this is what we went for in the end. It's been great to declutter, organise and create a home around the way we want to live.
At Morpho + Luna we are all about authenticity and quality. What does this mean to you, in both your work and your home?
I think authenticity is what defines us and sets us apart from everyone else. Working for myself has given me the chance to channel that authenticity and work to a standard that I set myself. Within our home it represents all those small details and finishings that make all the difference. We began by renovating the kitchen and did it to a very high spec, which meant the rest of the space had to follow suit. It was a challenging process in many ways, but one that has been creative and has given us a huge opportunity to learn a whole new skill set. It has been challenging but exciting in equal measure.
We also believe in an understated luxury that's all in the details. For us this means special trims, laces, fabrics and embroidery. How does that fit with your aesthetic? What luxury 'details' do you use in cooking and entertaining?
I think it's absolutely all about those personal touches; the finishes do indeed make all the difference. This was something we were acutely aware of when designing our kitchen. We chose chevron oak flooring, and Venetian plaster for the walls as we wanted to add an extra layer of interest. We worked with bespoke kitchen makers Pluck, creating a kitchen that works ergonomically and efficiently. We have incredible appliances from Miele that really do make all the difference when cooking (especially baking). Creating this kitchen has meant I have a space that encourages creativity and is a space to share and socialise in, but ultimately it feels like a space that works, from the positioning of plug sockets to under-shelf lights and storage – these all make the space come together. In terms of entertaining I think it's always those personal touches that create something extra special.
What are your tips for entertaining at home? What are your favourite things to cook and who do you like to cook for?
I love to cook hearty dishes that are vibrant, varied and led by the seasons. Cooking for friends and family is always extra special as there's no pressure but you always add that extra bit of love. I often cook homemade pasta, and a lot of meat-free dishes (as my husband is vegetarian), and I love to pack in as many fresh vegetables, herbs and spices as I can. I always say to people that preparation is key: think about your menu and plan it so that you have the bare minimum to do on the night. Choose dishes you can prep well in advance or the day before and will be better for it. The aim is always to be the host, not the cook! 
Tell us about your personal style – what do you like to wear and what inspires your look?
Ultimately, I like to be comfortable. I try to purchase key pieces that are quality staples or standout styles. I'm mindful of steering clear of fast fashion and instead veer more towards buying investment pieces. I'm really aware of over-consuming so am definitely a more considered shopper these days. I have brands that I love and always go back to: Mother of Pearl, Marni, Miu Miu, Ellery, Three Graces, House of Holland and Cos.
PHOTOGRAPHY: Lauren Luxenberg