AW22 "DREAM A LITTLE DREAM OF ME"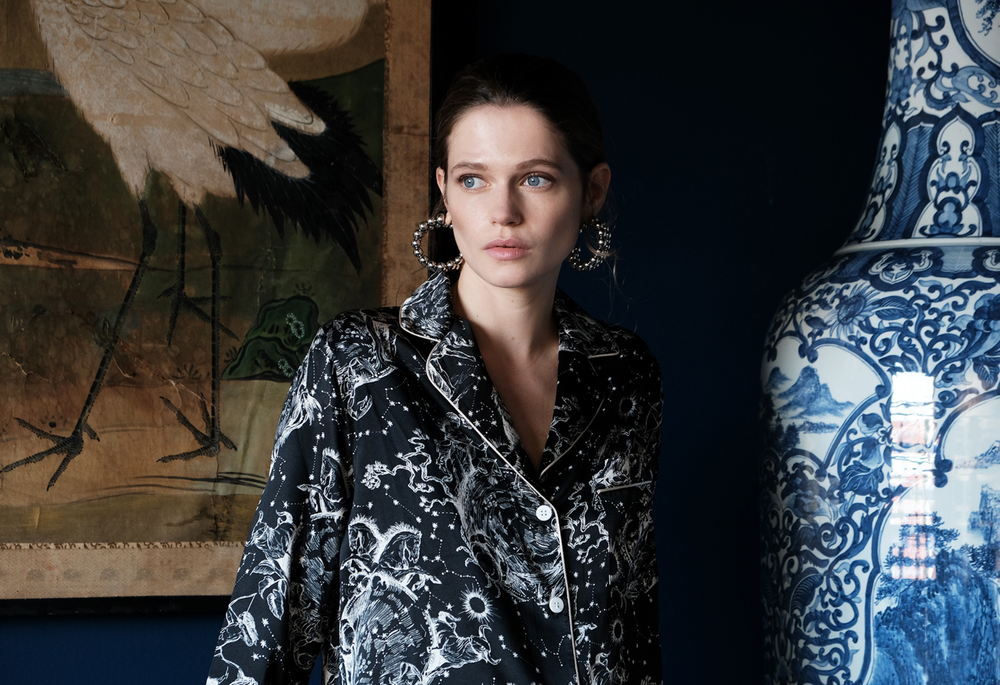 "Stars shining bright above you… Night breezes seem to whisper 'I love you'... 
Birds singing in the sycamore trees… Dream a little dream of me."
Just as Doris Day used to sing in her classically romantic song, this season, Morpho + Luna will have everyone dream incredible dreams of our new AW22 Collection: an ode to the Cosmos, to the beauty of the night, and to a new fall in full bloom. 
After all, Morpho + Luna knows a thing or two about making women feel beautiful at night. This is why, Cosmos isn't only the overarching theme of the collection, but also the name of a new print (Cosmo in Italian), an exclusively hand-drawn design of the cosmology of the universe featuring astrological signs, presented in two colorways, midnight blue, and milky pink.
We have always wanted to create a print inspired by the night and astrology, given our name and our inspirations. Cosmo is an ode to the skies and each person's unique personality. It will be a recurring theme in the future, and each season, the Cosmo print will vary.
Cosmos are also the flowers represented in the new Morning Glory print which was uncovered in an ancient Japanese book sourced from the Mantero Archives. Cosmos flowers most commonly symbolize order and harmony. This primary symbolic meaning of cosmos flowers comes from the flower's name (kosmos in Greek) and its orderly arrangement of petals, but they also stand for positive emotions like infinite love, peace, serenity, innocence, joy, and beauty. 
And finally, this season also sees the comeback of our best-seller Lullaby Leaves collection launched last year with great success. The print has been reinterpreted into new colorways, new fabric, and new silhouettes.
It is inspired by the Japanese Art Deco movement which flourished from the 1920s to 1940s and showcases an abstract floral pattern depicting twirling Gingko Bilboa leaves with their distinctive fan shape, a symbol of strengths, hope, and peace for centuries.
The print is presented for the first time into a very limited drop of printed cotton percale PJs sets. The cotton percale was sourced for its highest quality and for its closeness to the softness of silk. It is thought for those who love our prints but prefer to sleep in cotton. And for the silk lovers, our Lullaby Leaves PJs are coming this season in Caramel and Rose Gold as well as Ivory and Sapphire in a newly designed silhouette, which is more loungey and lends itself very well to being worn as ready-to-wear, from day to night.
We invite you to discover the "Dream A Little Dream Of Me" AW22 Collection by Morpho + Luna.
With love,
- Cécile and the formidable team
Photos by Caroline Gavazzi carolinegavazzi.com