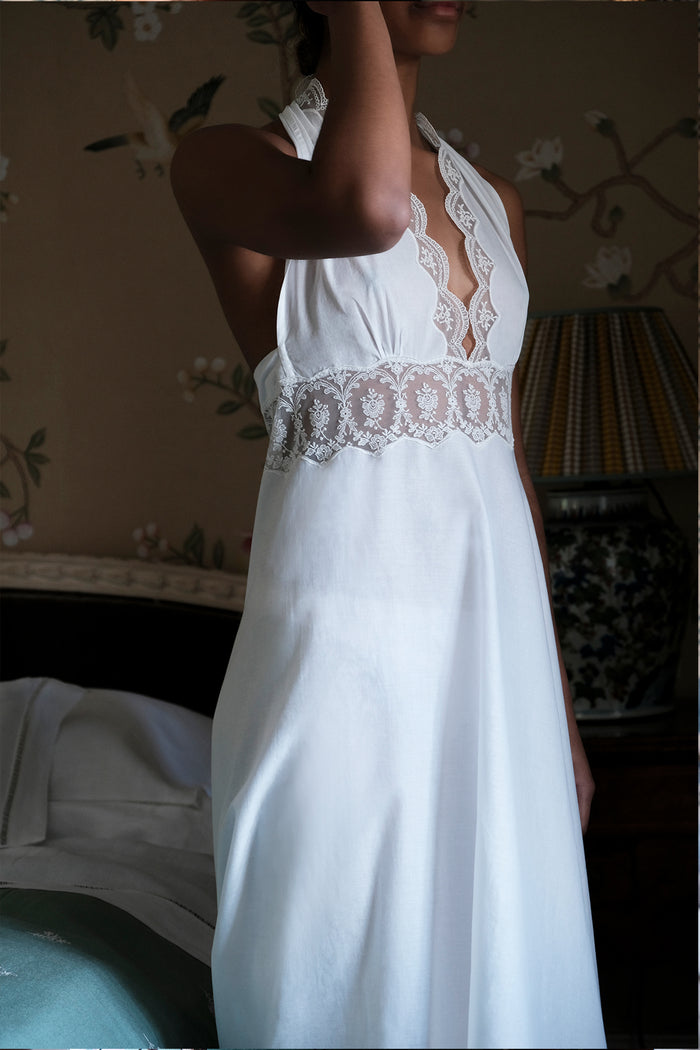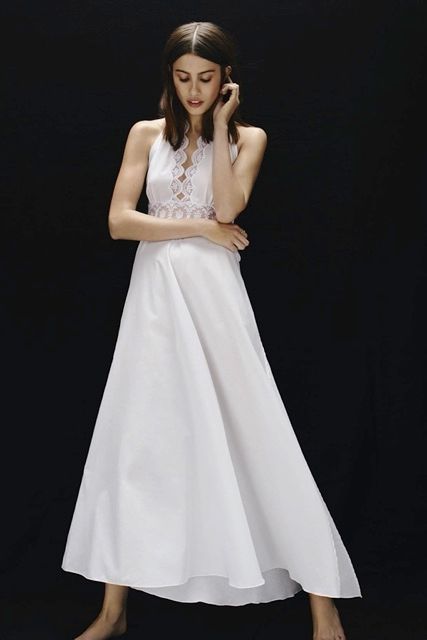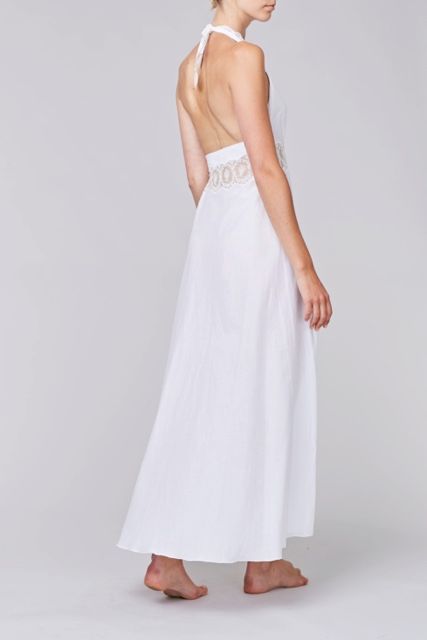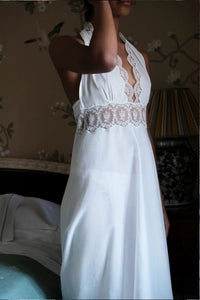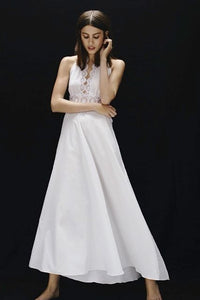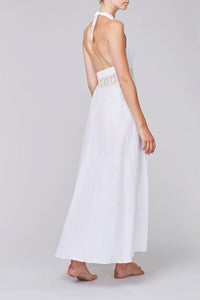 MARILYN COTTON LONG SLIP DRESS
Cotton
Last Pieces
Made to order
Signature Collection
White
Regular price $275.00 $192.00 €210.00 You save 30%
Description
Fabric
Fit + Care
Monogramming
Description
THIS STYLE IS EXCLUSIVELY MADE-TO-ORDER AND WILL SHIP IN 4/6 WEEKS.  
For further information please send us an email a info@morphoandluna.com
Crafted from super-soft pure cotton, our long-length Marilyn nightdress paired with any of our long-length robes is a perfect combination for a lazy Sunday morning of relaxing.
Alternatively, wear our halter-neck nightdress with some sandals or ankle boots for a daring and feminine summer look. Featuring a halter-like bodice and a beautiful scalloped plunging neckline trimmed with elegant lace.
The transparent lace waistband and open back exude sensuality and refinement while the full skirt and side slits ensure comfort and elegance with every movement. 

Product details:
• Trimmed with delightful Italian cotton lace
• 100% cotton

Cotton is made from natural plant fibre and is a soft, naturally hypoallergenic, highly absorbent and breathable fabric making it perfect for long-lasting wear.
Fabric
Made from 100% Italian cotton. This lightweight fabric is woven from high-quality Italian cotton using long threads for a soft, smooth and luxurious finish. It is then trimmed with beautiful  Italian cotton lace.
Fabric details: 
• Natural plant fibre
• Hypoallergenic
• Breathable
• Naturally absorbent
We are committed to slow fashion and Italian craftsmanship and are extremely proud that all of our luxury collections are produced at small family-run factories and laboratories in Italy. All of our suppliers comply with strict EU regulations and the materials we use are traceable, transparent, and guaranteed to be fair and responsible at every stage of the production process.
Fit + Care
◌ Fits true to size
◌ Model is 5ft 11in/ 1.79m, is a size UK8 and wears a size S
(UK08/ US04/ 40IT/ 36FR)
◌ Gentle hand wash or Dry clean
◌ Rack or line dry. Do not tumble dry
◌ For long-term storage, we recommend using cotton bags and/or acid-free paper to keep out insects and avoid deterioration.
◌ For more information please consult our care guide or email us at info@morphoandluna.com
Cotton is a durable fabric that gets softer when washed making it the perfect choice for long-lasting sleepwear.
Monogramming
We work with the finest machine Embroidery Ateliers in Milan to provide customers with a bespoke monogramming service available on any of our styles in an array of lettering fonts and silk thread colours. This bespoke service takes just one a week and prices start from 10€ per letter. Please email info@morphoandluna.com for more information or to arrange this service.

*Please note that monogrammed items cannot be exchanged or returned unless faulty.