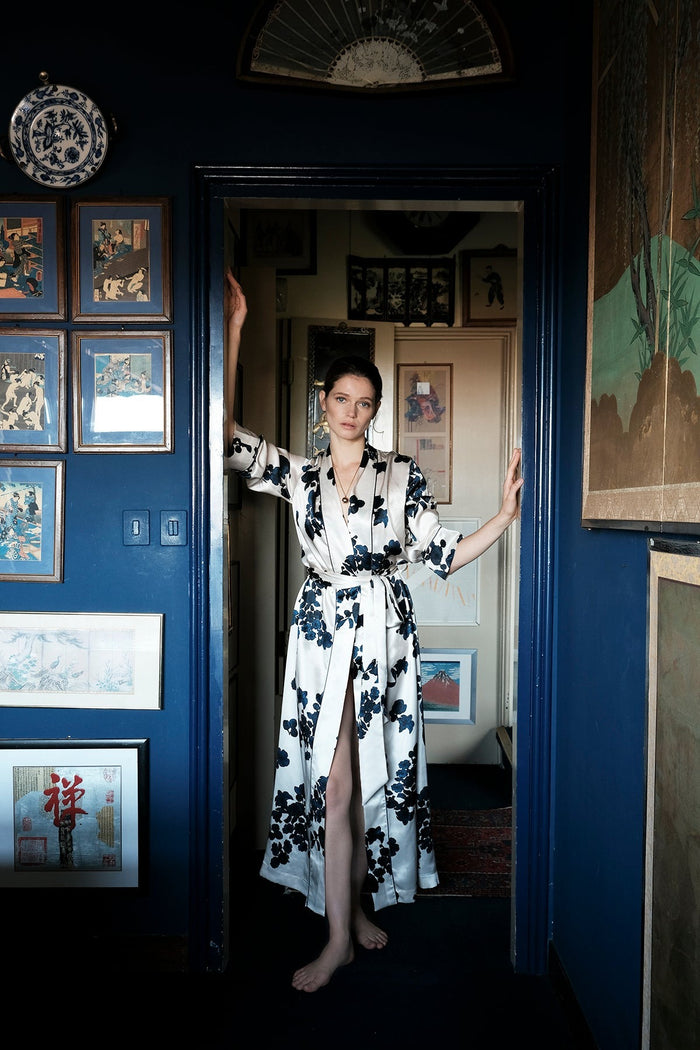 JADE MORNING GLORY SILK ROBE
Midnight Blue
Morning Glory Collection
Regular price $771.00 Sale
Description
Fabric
Fit + Care
Monogramming
Description
The Morpho + Luna Jade silk robe showcases our exclusive and limited edition Morning Glory floral print uncovered in the archives of world-renowned textile icon Mantero.
The print depicts Cosmos flowers in bloom. Cosmos flowers most commonly symbolise order and harmony (from the Greek cosmos) and represent positive emotions such as endless love, peace, serenity and beauty.

This maxi length robe features shawls lapels, side pockets, wide waist tie, and tonal piping details.

Jade robe can be coordinated with its matching shirt and trousers or other Morpho + Luna creations.

Product details:
• Printed silk robe
• Shawl lapels
• Wide waist tie
• Maxi-length hem
• Tonal piping
• 100% 19-momme mulberry silk
Fabric
• 100% 19 momme silk 
Made from natural fibres, silk is a naturally hypoallergenic, soft and extremely strong fabric meaning it is perfect for long-lasting wear day or night.
We are committed to slow fashion and Italian craftsmanship and are extremely proud that all of our luxury collections are produced at small family-run factories and laboratories in Italy. All of our suppliers comply with strict EU regulations and the materials we use are traceable, transparent, and guaranteed to be fair and responsible at every stage of the production process.
Fit + Care
◌ Fits true to size
◌ Model is Model is 5'8.5/ 1.74m, wears a size S
◌ Gentle hand wash or machine wash on a delicate cycle
◌ Rack or line dry. Do not tumble dry
◌ For more information please consult our care guide or email us at info@morphoandluna.com

Monogramming
We work with the finest machine Embroidery Ateliers in Milan to provide customers with a bespoke monogramming service available on any of our styles in an array of lettering fonts and silk thread colours. This bespoke service takes just one week and prices start from 15€ per letter. Please email info@morphoandluna.com for more information or to arrange this service.

*Please note that monogrammed items cannot be exchanged or returned unless faulty.